Im married to a good man, Chris, for 6yrs been Together 8. I have two angel babies, one in 2008 before my daughter Tristani was born in August of 2009.

In 2010 we begin ttc again when my Mirena caused issues & had to be removed, a year later in 2011 I became pregnant a 3rd time. But had a ANOTHER m/c.

BUT FOR the summer 2012 I took a ttc beak and while doing so I found out through lap surgery I had stage 3 endo, in October. It was removed & I returned to ttc shortly after.

I just wanted 2 pretty pink lines! & I got them for the 4th time! On 3.18.13 after 2.5 yrs of ttc.I just hope to carry this baby to term. SOOOO far so good!

Sticky dust welcome!

& HERE'S BABY & Sticky DUST TO ALL TTC MAMMAS.
comment
swimming. watching baby girl grow. poems. photography. beauty. family. exercise. healthy living.
*Lindsey*(32 weeks)
♥ Dani ♥
Squeaky McGee [30 wks]
Kenzye and Chris' Mommy :
Sarbears mommy
-Jen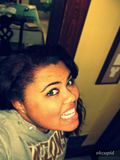 Blessed x2♥
*Danielle88*((#2ontheway)
Noahs Mommy ❤