Hey I am a mommy of one <3 soon to be two! We are excited and thrilled!
comment
posted 15th Sep '11
Yes, I have. The nausea with bits of spewing here and there.. That's gone done these last couple of days. Sore breast. Fatigue. I can get dehydrated really fast. My bladder gets full often. lol. And just some constipation here and there also (might be the prenatal pills already). I am heading to bed right now, but let me how your doc. appt. went!

Oh! and btw, I get to check out the little ones heart beat on tues. Even get to see it.. though it will be tiny. lol. But I am happy about that. It will be something until I go to the doc.
SamanthaLea424
Ms.Tay(#1 mommy)
HES HERE!!!
Dale & Kaid's Momma
♥pumpkinMomma
Zeldafairy
McMummy butt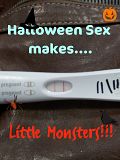 MuffinButt's Mom has MS
Dark-Angel