First Halloween
A little about me:
My name is Kaitlynn Elizabeth Hoefert, born on November 11th,1992. I am a stay at home mommy and wouldn't trade it for the world! My beautiful daughter Orianna Nichole was born on May 29th,2012 at 1:01 PM. I am engaged to Orianna's daddy Joseph Marchand and I am getting married but the date is not decided. Being a mom is the scariest,most rewarding thing i have ever done! She has saved my life.

\



Orianna's birth story:
My fiance and I went into the hospital at 8 in the morning on May 29th,2012. I had a planned C-section because with my bone disorder I wasn't able to deliver naturally. Went back into the "waiting room" around 11 and had to wait an hour because my paperwork wouldn't show up. I finally got processed and was heading back into the room. He wasn't able to be with me because i was being put to sleep but he got to wheel her out of the room into the nursery. She was born at 1:01 PM 9lbs 2oz and 21 1/2 inches long. She instantly grabbed our hearts the moment we saw her. She was diagnosed with Cystic Fibrosis on June 30th,2012. She is the happoest baby i have ever met. Unless she is tired she is always smiling and playing! She is gaining a lot more weight than her doctors ever thought she would have. She's my little chunkers!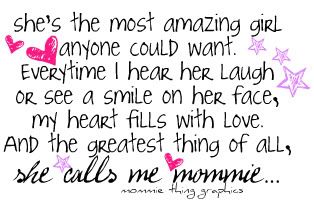 What Is Cystic Fibrosis?
Cystic fibrosis is an inherited chronic disease that affects the lungs and digestive system of about 30,000 children and adults in the United States (70,000 worldwide). A defective gene and its protein product cause the body to produce unusually thick, sticky mucus that:
clogs the lungs and leads to life-threatening lung infections; and
obstructs the pancreas and stops natural enzymes from helping the body break down and absorb food.

In the 1950s, few children with cystic fibrosis lived to attend elementary school. Today, advances in research and medical treatments have further enhanced and extended life for children and adults with CF. Many people with the disease can now expect to live into their 30s, 40s and beyond.
Symptoms of Cystic Fibrosis
People with CF can have a variety of symptoms, including:
very salty-tasting skin;
persistent coughing, at times with phlegm;
frequent lung infections;
wheezing or shortness of breath;
poor growth/weight gain in spite of a good appetite; and
frequent greasy, bulky stools or difficulty in bowel movements.
Statistics
About 1,000 new cases of cystic fibrosis are diagnosed each year.
More than 70% of patients are diagnosed by age two.
More than 45% of the CF patient population is age 18 or older.
The predicted median age of survival for a person with CF is in the late 30s.
http://www.cff.org/AboutCF/
How do people get cystic fibrosis?
Cystic fibrosis is a genetic disease. This means that people inherit it from their parents through genes (or DNA), which also determine a lot of other characteristics including height, hair color and eye color. Genes, found in the nucleus of all the body's cells, control cell function by serving as the blueprint for the production of proteins.
To have cystic fibrosis, a person must inherit two copies of the defective CF gene—one copy from each parent. If both parents are carriers of the CF gene (i.e., they each have one copy of the defective gene, but do not have the disease themselves), their child will have a 25% chance of inheriting both defective copies and having cystic fibrosis, a 50% chance of inheriting one defective copy and being a carrier, and a 25% chance of not having CF or carrying the gene.
Who gets cystic fibrosis?
Approximately 30,000 children and adults in the United States have cystic fibrosis. An additional ten million more—or about one in every 31 Americans—are carriers of the defective CF gene, but do not have the disease. CF is most common in Caucasians, but it can affect all races.
The severity of cystic fibrosis symptoms is different from person to person. The most common symptoms are:
Very salty-tasting skin
Persistent coughing at times producing phlegm
Frequent lung infections, like pneumonia or bronchitis
Wheezing or shortness of breath
Poor growth/weight gain in spite of a good appetite
Frequent greasy, bulky stools or difficulty in bowel movements
Small, fleshy growths in the nose called nasal polyps

New research shows that the severity of CF symptoms is partly based on the types of CF gene mutations (defects) a person with the disease has. There are more than 1,000 different mutations of the CF gene.
How is CF diagnosed?
Most people are diagnosed with CF at birth through newborn screening, or before the age of 2. A doctor who sees the symptoms of CF will order asweat test or a genetic test to confirm the diagnosis.
A sweat test is the most common test used to diagnose cystic fibrosis and is considered the diagnostic "gold standard." A small electrode is placed on the skin (usually on the arm) to stimulate the sweat glands. Sweat is then collected and the amount of chloride, a component of salt in the sweat, is measured. A high level of chloride means that the person has cystic fibrosis.

For children who are less than six months old:

Chloride levels at or above 60 mmol/L (a measure of concentration) means the child has CF.
Chloride levels between 30 and 59 mmol/L are considered borderline and need to be examined on a case-by-case basis.
Chloride levels below 30 mmol/L are considered negative for CF.


For people over the age of six months:

Chloride levels at or above 60 mmol/L means the person has CF.
Chloride levels between 40 and 59 mmol/L are borderline.
Chloride levels below 40 mmol/L are considered negative for CF.

The best place to receive a reliable sweat test is at a Cystic Fibrosis Foundation-accredited care center.
In a genetic test, a blood sample or cells taken from the inside of the cheek are sent to a laboratory that specializes in genetic testing. Most labs only test for the most common mutations of the CF gene. Because there are more than 1,000 mutations that cause CF, screening for all mutations is not possible. A genetic test is often used if the results from a sweat test are unclear.
How does CF affect the lungs?
Normally, the healthy CF gene makes a protein—known as CFTR (Cystic Fibrosis conductance Transmembrane Regulator)—that is found in the cells that line various organs, like the lungs and the pancreas. This protein controls the movement of electrically charged particles, like chloride and sodium (components of salt) in and out of these cells.
When the protein is defective, as in cystic fibrosis, the salt balance in the body is disturbed. Because there is too little salt and water on the outside of the cells, the thin layer of mucus that helps keep the lungs free of germs becomes very thick and difficult to move. And because it is so hard to cough out, this mucus clogs the airways and leads to infections that damage the lungs.
Is there a cure for cystic fibrosis?
Currently, there is no cure for cystic fibrosis. However, specialized medical care, aggressive drug treatments and therapies, along with proper CFnutrition, can lengthen and improve the quality of life for those with CF.
The best way for people with cystic fibrosis to fight their disease is to work with their medical caregivers at a CF Foundation-accredited care center. The care center partners with people who have CF to help keep them in the best health possible.
What is a typical day for someone with CF?
Because the severity of CF differs widely from person to person, and CF lung infections flare up from time to time, there is no "typical" day. However, each day most people with CF:
Take pancreatic enzyme supplement capsules with every meal and most snacks (even babies who are breastfeeding may need to take enzymes).
Take multi-vitamins.
Do some form of airway clearance at least once and sometimes up to four or more times a day.
Take aerosolized medicines—liquid medicines that are made into a mist or aerosol and then inhaled through a nebulizer.
What is the life expectancy for people who have CF (in the United States)?
There is no way to accurately predict how long a person with cystic fibrosis will live, as many different factors affect a person's health. Severity of disease and time of diagnosis are two such factors. Many people have a mild case of CF, while others can have moderate or severe cases.
In addition, some adults with cystic fibrosis have only recently begun to use new treatments, while an infant diagnosed at birth will have the advantage of starting specialized treatments that were not available even a decade ago.
Data from the CF Foundation Patient Registry, a tool that tracks health statistics from patients treated at CF Foundation-accredited care centers, shows that more than 45 percent of all people with CF in this country are 18 years or older. Also, the Foundation calculates the median predicted age of survival for people with CF. This number is based on a statistical method of using life table analyses developed by insurance companies to calculate trends in survival.
In 2009, the median predicted age of survival was in the mid-30s. The median predicted age of survival is the age by which half of the current CF Patient Registry population would be expected to survive, given the ages of the patients in the registry and the distribution of deaths in 2009.
The steady rise of the median predicted age of survival suggests how improvements in treatment and care are advancing the lives of those with CF. In 1955, children with CF were not expected to live long enough to attend grade school. Today, thanks to continued Foundation-supported research and specialized care, an increasing number of people with cystic fibrosis are living into adulthood and leading healthier lives that include careers, marriage and families of their own.
What CF treatments or therapies are available?
The best treatments and therapies for cystic fibrosis vary from person to person. CF caregivers at a CF Foundation-accredited care center work closely with CF patients and their families to create individualized treatment plans.
Since cystic fibrosis affects the lungs of most patients, a large part of the treatment routine is to clear mucus from the airways by using different airway clearance techniques. These techniques use vibrations to help loosen the mucus in the lungs so it can be coughed out. For more information, readAirway Clearance Techniques. There are several medicines that treat lung infections and help people with cystic fibrosis breathe better. They are:
Mucus-thinners – Medicine that thins mucus, making it easier to cough out.
Antibiotics – Drugs that can kill or slow the growth of germs called bacteria. One commonly used CF drug is TOBI®, or "Tobramycin for Inhalation."
Anti-inflammatories – Drugs, like ibuprofen, help reduce inflammation or swelling of tissues in the body. People with CF have inflammation in their lungs. This is one cause of lung damage.
Bronchodilators – Medicines that open the airways for easier breathing.
Where can people with CF get the best care?
Because CF is a complex disease that affects so many parts of the body, proper care requires specialized knowledge. The best place to receive that care is at one of the more than 110 nationwide CF Foundation-accredited care centers.
Each center must meet strict guidelines to receive the Foundation's "stamp of approval" every year. Care center staff makes up a whole group of specialists, including doctors, nurses, respiratory and physical therapists, dietitians and social workers. This talented group works with each CF patient to meet that person's specific needs and to keep them as healthy as possible.
The latest potential treatments for CF are being tested in clinical trials at many CF Foundation-accredited care centers. Patients can help by volunteering to participate in a clinical trial, which will help the research for a cure. To find a CF care center, call (800) FIGHT CF, or click here.
Does a lung transplant cure CF?
No. A lung transplant will not cure CF because the defective gene that causes the disease is in all of the cells in the body, not just in the lungs. At this time, scientists are not able to "fix" genes permanently (see gene therapy). While a transplant does give a person with CF a new set of lungs, the rest of the cells in the body still have CF and may already be damaged by the disease. Further, organ rejection is always possible and drugs that help prevent organ rejection can cause other health problems.
What about gene therapy? Is it a treatment for people with CF?
When scientists found the most common gene that causes CF in 1989, there was much excitement about the possibility of developing gene therapy. Gene therapy is the process by which healthy genes are delivered into cells and tissues of the body using such "vehicles" as a specially engineered virus.
Researchers need to add enough healthy genes to override the effects of the defective ones. If it is successfully done, gene therapy has the potential of curing cystic fibrosis as it addresses the root cause of the disease (the faulty CF gene) and not merely the symptoms.
Scientists are currently exploring the use of gene therapy for many diseases but have had little success. That is because it has been very hard to find a safe and reliable way to deliver healthy genes into the cells and tissues of the body. For this reason, we cannot predict when and if gene therapy will become available as a treatment.
Gene therapy, like any other medical research, must be safe and effective before it can be used as a treatment. Research is ongoing in both the clinic and the laboratory
.
What is a clinical trial?
Once researchers have shown that a new drug is safe and potentially effective in the laboratory, a clinical trial is designed to study it in people. All clinical trials must be approved by the Food and Drug Administration before studies can begin in humans.
Researchers find volunteers with CF who fit the criteria for the specific clinical trial. Some trials, for instance, may be targeted only at children or only at people with digestive problems. Other trials may only be for people with CF whose lung function is within a certain range. Some clinical trials actually begin with volunteers who are healthy and do not have CF at all. Researchers observe how the drug behaves in the body under highly controlled and monitored circumstances, and whether the treatment is helpful to people with CF.
With more than 25 drugs in clinical trials and several in the laboratory, more people with CF are needed to join clinical trials. The best way to make sure CF drug research continues is for people with CF is to contact a CF care center and join a clinical trial.
http://www.cff.org/AboutCF/Faqs/
comment
Swimming, music, crosstitching
"TBear"
Kristy Graham
Little Richard's mommie!
dederevsdaughter
KGU's momma