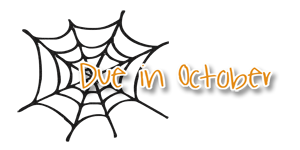 Hello my name is Kristen. I'm married to the best man in the world. He's my best friend, lover and all of the above. we have a soon to be 4 year old little girl name Kirstin-Nicole. we also lost 2 of our babies. and now we are pregnant again. We are due on October 23rd 2012. we all could not be happier. It's been a emotional roller coster. but we are getting through it and waiting patiently to meet our new little guy.

ABOUT MOMMY
Name: Kristen Terry
Age: 22
Is this the first child?: no
ABOUT THE DADDY
Name: Joseph Terr
Age: 23
Is this the first child?: no
FINDING OUT
1. What day did you find out you were pregnant?: 2/18/2012
2. How did you feel when you found out?: Excited and scared
3. Who was with you? It was me and my husband
4. How did the daddy react?: He was kinda scared
TELLING THE PARENTS
1. How did your parents react?:My mother was pretty excited.
2. How did his parents react?: Very excited.
3. How often do they call to check on you?: I talk to my mom every day.
ABOUT THE PREGNANCY
1. When is your due date?: Est. October 23rd, 2012.
2. How far along are you right now?: 10 Weeks and 2 days
3. Have you had an ultra sound?: Yes and i cried.
4. Have you heard the heartbeat?: Yes it was healthy at 162 bpm
SEX OF THE BABY
1. What do you want. Boy or Girl?: Boy but i feel its another girl
2. Do you know what you are having now?: Nope, fingers crossed on baby boy
3. Are you happy with what you are having?: It won't matter what the sex is, I'll love it just as much.
ABOUT THE BIRTH
1. Who is going to be with you?: My husband and my mom.
2. Are you going to video tape it?: Ehhh..
3. Natural or medicated? Medicated, I'm sure.
4. Do you think you will have a c-section?: I have a fear i will
5. Do you think you will cry when you first hold your baby?: Most diffidently
6. Do you know what you will say to the baby when you first hold it?: Not sure yet
7. Are you scared about the labor? NO
NAMES
1. Do you have a name picked out?: Girl yes Boy no
2. Is your baby going to be named after anyone?: If a boy yes
3. Did the daddy help pick the name?: Yes.
OTHER RANDOM QUESTIONS
1. Where was your baby conceived?: At our house on our wedding night
2. Have you felt the baby move?: Not yet
3. What was your first symptom?: I felt extremely tired and sick. Not nauseous, just sick.
4. Will you have godparents?: no
5. What will the baby's race be ?: White
6. What is the babys room theme?:Girl zebra and boy sail boats
7. Are you ready to be a mommy?:Yes im ready to be a mommy again.
8. What do you think the baby will be a "daddys girl/boy" or a "mommys girl/boy"?: probably both lol
the loves of my life

1-4 weeks = [1 month] - DONE. 160lbs.
5-8 weeks = [2 months] - DONE. 160lbs.
9-13 weeks = [3 months] - DONE.163lbs


14-17 weeks = [4 months] - DONE 163.4.
18-21 weeks = [5 months] - DONE 163.4
22-26 weeks = [6 months] - DONE 167
27-30 weeks = [7 months] - DONE 170.
31-35 weeks = [8 months] - Baking.
36-40 weeks = [9 months] - Baking.