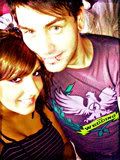 On July 27th, we learned we're having a boy! <3
Name:
Victoria (most people call me Vikki)
Location:
Cuyahoga Falls, OH

Due Date:
December 7th
Hobbies:
reading, writing, cooking/baking, being outside, animals, photography, fashion, hiking, indie music, my fiance, interior design, intelligent conversation, my family, gardening, movies, art in all forms.
Age:
26
Relationship status:
Engaged
I am a first-time mom and couldn't be more excited. I am considered high-risk (I have a seizure disorder & RH negative blood). But, I'm staying positive, it's challenging but I am making the best of it. I can't do a whole lot since I'm mostly supposed to be on bed rest. I don't have many close friends, and the ones I do don't have kids, so I love meeting new people and getting advice.