My name is Koral and i'm twenty years old, I have one child. Our baby girl, Payton Robin Krystine was born on March 13th 2013 at 8:28pm, she weighed 6lb and 8oz, 20in long and is absolutely perfect in every way, she is mommy and daddy's whole world! <3
--Please feel free to message or PT me i don't mind
July.28,2012- cramping began but no AF?
Aug.1,- Positive pregnancy tests (4)- =5w3d
Aug.2- Took another (pos) HPT. First Doc apt confirmed Pregnancy, doc estimated i was around 8 weeks, but unsure as my premature ovarian failure causes irregular periods also morning sickness began
Aug.9,- Second Doc apt, cramping stopped, got blood work done
Aug.21- First Ultrasound, DD is determined; Mar 31, 2013. First time seeing our little peanut, babe had a very strong HB, 169bpm- =8w2d
Aug.22- First prenatal apt (physical done) - =8w3d,
Sept. 23- Woke up throwing up consistently at 12am, ended up in hospital overnight for fluids and nausea meds (bad bout of food poisoning or ecoli?)
Sept.27- Second prenatal apt, heard HB for first time on doppler 160 bpm- = 13w4d

Oct.12- Unexpected Doc apt- afraid i was loosing fluid, heard HB 146bpm doc said it wasn't fluid maybe a little urine, and all was good ;)=15w5d
0ct.23- Third prenatal apt HR in the 120s - ,=17w2d
Nov.1- Second Ultrasound, HR 150bpm tech couldn't get all pics she needed, also she was very rude and wouldn't try to find out gender unlike my doc she said " its to early...?"..- =18w4d
Nov.8- Third Ultrasound ('sneak a peak' non-medical ultrasound to determine sex), HR 145bpm- Determined
were having a GIRL!!
- =19w4d
Nov.20- Fourth prenatal apt HR 146bpm, doc measured my belly for the first time 20cm =21w2d
Nov.20- Felt baby's first movements! , at bedtime
Nov.26- Breast leakage began, First strong kicks! Daddy felt Payton for the first time, so excited hes now always trying to get her to "Kick for daddy" ;)
Dec.3- Braxton Hicks began
Dec.4- Fourth ultrasound, tech said he got the pics he needed from last time (second ultrasound) as long as doc is satisfied, he didn't give me the HR dumb tech, though he said it was good, and determined shes still a girl! =23w2d
Dec.8- First seen Payton kick from the outside of my belly!
Dec.19- Fifth prenatal apt, all went very well, last ultrasound pics look perfect baby measured a week behind but healthy, HR 130 bpm, fundus measured 24.5. Got diabetes (glucose) rec as well as Rhogam shot rec, doc will administer shot next apt =25w3d

Jan.16- Sixth prenatal apt, baby is measuring a week ahead (Fundus 30.5) and doc said she is already head down! Also Rhogam shot was administered and i passed my glucose test
HR was in the 130's as it often is. Appointments are now bi weekly =29w3d
Jan.29-Seventh prenatal apt, had a male apprentice that did most of the apt today. Daddy has gotten to make it to the last 3 appointments yaay, Fundus measured 32cm, my weight gain slowed down! baby's HR was 140bpm, blood pressure and all else was perfect as usual. Slight swelling in my ankles began as of yesterday, guess i will be putting my feet up more often. Appointments are still bi-weekly getting closer and mommy and daddy couldn't be happier!=31w2d
Feb.12-Eighth prenatal apt, went very well, doc ordered non stress tests for once a week starting friday, baby is right on track Fundus measured 33cm and HR was 120bpm. blood pressure was good as always, doc told me to use cortizone cream for the rash on my hands and belly known as PUPP, also Strep B swab due for my next apt; still bi-weekly apts =33w2d
Feb.15-Fifth ultrasound, went well baby looks very healthy she is approximately 5lb 10oz already!, got some really nice clear pics
=33w5d
Also Feb.15-First NST, went to hospital for a routine non stress test, and was found to be contracting quite regularly and not quitting so my 20 min test turned into an over night stay to be monitored as i continued to contract. They finally slowed down around lunch the next day so the doc assessed me and said my cervix is changing even since yesterday so there is a pretty good chance Payton will be here in the next few weeks. We were finally discharged that afternoon put on strict bed rest until the time arrives, both daddy, the docs and i are hoping she will hold off until at least 36 weeks, but we will see!=33w5d
Feb. 16- Contractions began at 9pm for over an hour so i called the hospital and was told to come get assessed to be on the safe side, so we went in for another NST and by then the what was found out to be braxton hicks had stopped so the nurse had checked my cervix and we were sent home thank goodness.
Feb.22- Second NST, went pretty well, i was contracting a little the first while we were there and i was feeling back pain and cramping so i had to stay on the monitors for over an hour and then my doc showed up to tell me i could go home and no longer was assigned strict bed rest as i have almost made it to 35 weeks so she said rest and baby will come when shes ready! soo excited to meet our princess=34w5d
Feb.28- Ninetieth prenatal apt, went well baby's has a healthy HR of 120 as usual, Fundus measures 36cm, my cervix was checked it is thinned out and were at 1cm dilated! I've been itching all over for about 5 days now so doc gave me a blood work rec to check for Cholestasis and if i have the condition i will be delivered asap as it can be very dangerous for baby. =35w4d
Mar.7-Tenth prenatal apt, elevated blood pressure, baby is still head down, HR of 122 bpm as usual. Doc said she thinks i do have cholastis of pregnancy so im full term on Sunday (37w) therefore she is going to go ahead and induce on Tuesday!=36w4d
Mar.12- being induced, cant wait to meet our sweet Payton <3!!!=37w2d
March 13- Our baby girl entered this world at 8:28pm weighing 6lb8oz and 20in long!
Little peanut!=8w2d <3
Bigger peanut! A girl we've named Payton Robin Krystine Klynchyk=19w4d
Mommy and Payton Robin @ 1 and a half weeks <3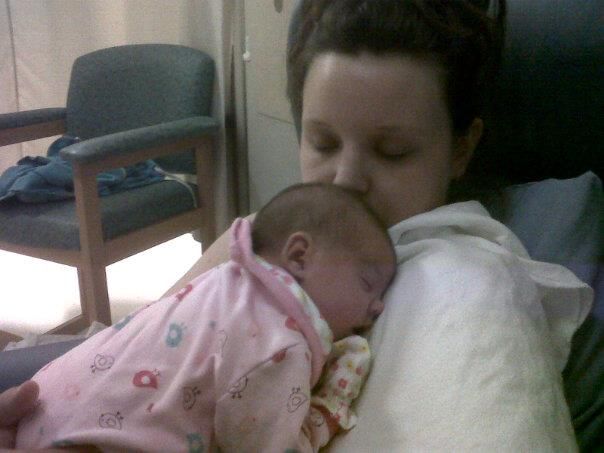 Baby Updates!;
-Birth-- 6lb 8oz
-1 month-- 7lb 12oz
-2 month-- 10lb 3oz