I guess after a few years being here I should write a little somthing here so people get to know me better. I am 28 . I have 3 wonderful children. Dakota is 9 , Dayton is 6 and My sweet baby Devin is 3. I have been married 8 years.I love my children and my husband more then anything and cant imagine my life without them! I am here for anyone that needs someone to talk to. I am very nice and I wont judge you no matter what you have to say.
Guess what! We are doing it again! Got a unexpected positive pregnancy test on Feb 15th. The new baby should be joining us in October! Lost this baby on March 16th
We now have an angel looking over us.
Expecting again after our MC! Pretty fast, but I hope this time we will welcome a new baby around Christmas time! Lost this baby May 16th. Please pray things start to look up for us. We have had so many hard times this year we are ready for the good! I guess you really do not know the true beauty of heaven til you feel the pure hate and sadness of Earth.
We are expecting baby number 4! Aug 2,2011! We are so excited and hope after 2 m/c we have a beautiful healthy baby. Kinda hoping for a girl this time!!
Our wedding 2002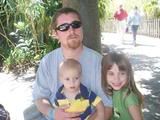 Daddy dakota and devin at the zoo.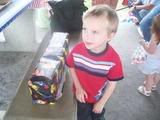 Daytons 5th birthday!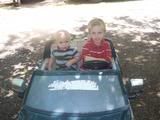 Devin and Dayton!