Wife, photographer, homeshooling mom to four young kids. I love God, my husband, my kids, my country, photography, chocolate, coffee, Facebook and my Blackberry.
My neglected Flickr Phototream
My Facebook Fan Page
My Blogsite for my photography and Photoshop Actions and Lightroom Presets.
(if you're into that sorta thing I have freebies there too!)
www.amymcmasterphotography.com
My Peeps:
comment
posted 9th Jul '10
I see you're into photography? (: I've been getting more into that since having my daughter. What kind of camera do you have? I'm definately not near as skilled with the camera as you seem to be, but I'm learning.
anything domestic, blogging, surfing the web, talking to family, loving on my own family, helping others
Jess&Ella*SASM
Naocorn
Kristen515
Zach&Evan&Jacob'sMom
M0mma of 5
samibear aka Casey
Toni[plus4]
*em*n*gwen*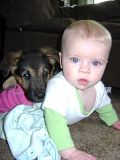 Jess & Lukas
Tara-Kieran's Mommy