My husband and I just welcomed our beautiful daughter Brooklyn Grace into the world on September 12, 2008. She is now six months and getting big. Such a smart little tyke! We are now expecting once again, and due around the middle of october of this year! We are both very excited to be able to give Brooklyn a little brother or sister!!! So that's my new news! And hope you all are doing well!


Update: The husband and I moved back to Michigan to be closer to family. Brooklyn is now almost 2. We lost our second child when I was 17 weeks along. Very very hard part of my life, along with a lot of personal problems to go through at the same time. But now, we are pregnant, again. Keeping my fingers crossed and praying like crazy that everything goes well this time around. We can only hope. That's about it for now, Take care!
comment
posted 10th May '09
Hey thank you. I have been pretty worried about it. I just dont know what to expect. Im doing it on my own so it makes it a lil more harder not to stress.
Swimming, Beach bumming, hanging out with my daughter :)
Kelly +2
TAYLOR.
xm
♥Cutie Patootie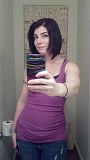 Hailey621
bAby cAmrYn iS hErE!*