I am 20 years old with a ONE year old daughter. I am happily involved with a 34 year old man who I love with all my heart. We have been together over two years.He has two other kids besides our daughter McKenzi. They are 9 and 8. Allen is a firefighter and I hope to be one soon. I am now part time at the local fire dept here.We are both certified first responders and im still waiting to finish my Mod 1 test. I am trying to live my dream and I am loving every minute of it.Once I pay off the other college I went to I will start EMT school. I am looking for another job. But for now I sell partylite candles.

http://www.partylite.biz/sites/ashleyp
www.myspace.com/peeves
last name: Peavy
email:q_t_pi_Ash_2007@yahoo.com
Contests:

RIP one of my best friends EM:

comment
posted 1st Feb '09
Lol! Hi, i'm great! How are you?
Being A SAHM, Myspace, BG, Being with my family && friends, spending time with my daughter && my boyfriends two kids.
Monica.
[JENN] ~*MOMMy 2 BE*~
LyaNi'S MomMy[OHT]
[-♥-]
Colleen L.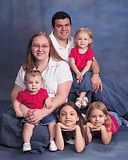 MzMommy*08
The Situation