My name is Amber, my husband Jerrod and I have been married for almost 4 yrs now we got married on june 3 2006. I was fresh out of highschool and he was in the military, We love our life. We started trying to concieve in nov of 07, concieved in the early part of 08, and on june 22 2008, we lost our first baby, i was 6 1/2 wks prego, it was soo hard to have to go through that but it made us stronger. Later on that yr I am pretty sure that we miscarried again, but I never went to the dr about it. we took a break on the baby making then started again in the early part of 09, then we stopped trying and started just enjoying it after a couple of months and then in later march beging of april we found out we were prego again. we found out at 15 wks that we were having a baby boy. while we were having an amnio done, there was speculation that our son had down syndrom. Once the amnio results came back fine were so relieved, then we looked like we may be facing another complication, the were telling us that our son had a hole in his heart. Well at 21 wks I went in and saw a pediatric cardiologist whole did a son specificly of his heart and everything was fine. The day I delievered is a day i will never forget, Dec 18 2009 My son Trace Crisstian Donahew was born he weighed 7 lbs 3 oz. 19 1/4'' long he was born at 10:52pm. I was in labor for like nine hrs and only pushed for 20 mns. What I also failed to mention was that HE was born three weeks early, and five hrs after my best friend took her son off of life support.
I just recently lost my little girl Emeri Faith on 8-12-10 went in for a sono and her little heart had just stopped beating, well I still didnt have my medicade yet so i was haveing to wait to have my dnc done, well the weekend i had it done, i had just randomly started bleeding, ( i wasnt bleeding or anything even though her heart had stopped) and so i went in to the er on a friday and after several tests and sonos they comfirmed that i was going through the m/c part of it and that i would need to have surgery but i wasnt bleeding bad enough for them to make the operating team come back up there so the dr told me to come back if it got worse. On sunday afternoon i was getting ready to go to my friends moms birthday party and i was bent over my bed changing my sons diaper, and i felt this weird pop inside of me and then a gush i went to the bathroom and after sitting on the toilet for a few moments i felt another large gush and then there was a mass of something pass. I still dont know exactly what it was but im pretty sure it was my little girl, I got up and was bleeding a whole lot and told my husband we needed to go to the er again, that night i ended up having my dnc. Emeri will forever be in my heart, I miss my little princess even though I never got to hold you in my arms I still saw you heard your little heart and felt you move.
Well I now have three angel babies. I found out In Feb 2011 that I was for sure expecting again. We were in disbelieve cuz we hadnt been trying that long since we lost emeri and we were expecting again I had one free sono done at like 8 weeks or so at this place and everything was okay I couldnt hear the heart beat but we could see it, I went in on April 11 to see my normal dr it was my first prenatal visit and my dr did a sono and found out that the baby had no heart beat, I was devistated to think that this has happened to me yet again. This is the third baby that I have lost. I have no idea why the last two times I was pregnant the babys heart just stopped. My dr ordered a d&c for the very next morning. It was so hard to know that I had lost my baby again. I cant understand why this keeps happening. But my dr did order blood work and we are expecting those results back on June 3 which hopefully will give us some answers until then I just try and hold my head up and be strong. I love all my babies and will never forget any of them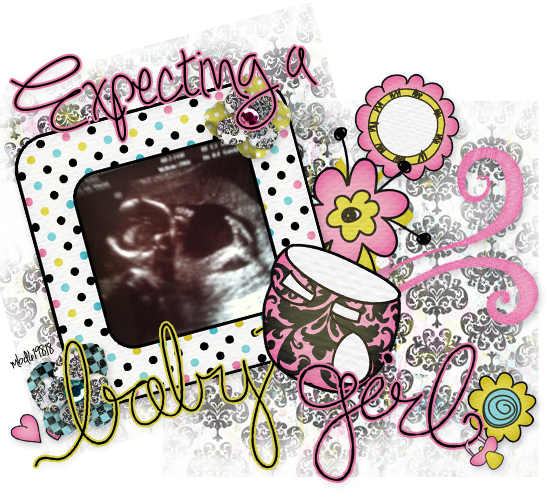 Update Ladies. Well Were expecting again, for the fifth time hopefully this baby decides to stick, WE are due may 19 2012. Im so excited and nervous about this whole thing. But some good news Im offically a week past my last two losses and theres still a heart beat YEAH!!!! Fingers crossed everything goes well.. OH by the way all tests came back normal so not sure whats caused the last losses.
Well Little miss Kadence EmilyFaith was born on may 11 2012 @ 11:54am weighing 6lbs 15oz 19 1.4" Delivered her with no pain meds, She did end up spending a week in the nicu because of issues with her little heart (she still has a hole in her heart that we have to monitor very closely) and because of jaundice. She is now almost 4 months old and jst as happy as can be!