Hello everyone!
Some people may think that I am crazy, but I am just me!

My children are :
Fiona born 4/10/2009
Seanborn 4/10/2009
Abigail born 3/17/2010

This road ahead of us might get bumpy....but as long as we are all together at the end is all that counts.
comment
music, reading, fall, halloween, scenic drives, sitting at home with my baby cakes and puppy.
Rena♥J
NURSBNKS
Nakitax205
Lorene Noah's mommy!
diggler
Mama to Lexi & Madie
Allboutthem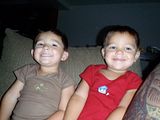 Misty*Twins+1+Twins*
*| INKED UP MOMMY |*