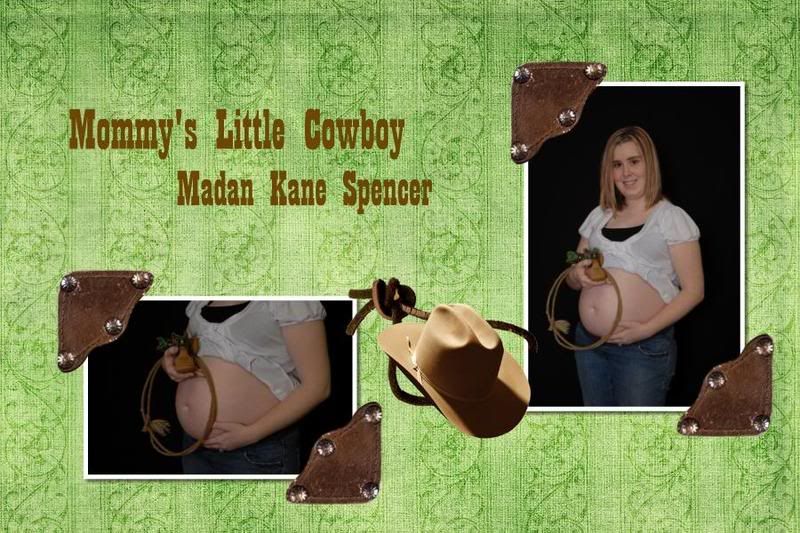 Madan's Timeline:
July 25, 2008-
Last day of my last period!
August 24, 2008-
My Birthday.
Took a home pregnancy test.
Expecting to have to wait for the results, but it turned immediately.
POSITIVE!!!
Tommy didn't know what say or do, he was speechless.
September 5,2008-
Told my parents.
Mom wasn't really sure what to think.
Dad was way to excited.
September 24, 2008-
First OB Visit.
Drove all the way there and they rudely refused to see me because
my sooner care hadn't been approved yet.
Walked across the hall and made a new appointment with a new
doctor.
September 25, 2008-
Went to local health department for proof of
pregnancy to speed up my sooner care process, even though they told
me I could just bring one from my OB.
Estimated Due Date Given by the health department was May 1, 2009.
October 9, 2008-
Supposed to be my First OB Visit the new doctor, but it got
cancelled because something came up and the doctor was going
to be out of the office that day.
October 15, 2008-
Finally my FIRST OB Visit!!!!
Nice long talk with the doctor.
First Ultrasound.
Office Due Date is May 2, 2009!
First time to hear the heartbeat.
First time to have my blood drawn.
November 14, 2008-
Second OB visit for me, First for Tommy!
They drew blood again, it hurt, and I got very sick.
Passed out from the blood drawn and scared poor Tommy!
He said he was never going again.
After all the sickness and scares, doctor says everything is going
good and at my next appointment he would schedule an
ultrasound to check all the growing body parts and maybe
determine the sex of the baby.
November 26, 2008-
Third Visit!
Everything is growing properly and the baby weighs
approximently 8oz's!!!
Also, It's A BOY!!!
December 12, 2008-
Fourth Visit!
Everything looks good, very good heartbeat!
December 23, 2008-
Trip to L&D...
Driving to work, slid on an icy bridge, didn't hit anything, but
decided it was probably best for both of us to be check out.
In L&D, got hooked to all the monitors to make sure there were no
contractions going on.
Got another ultrasound to make sure the baby was still safe and
secure.
Released from L&D, everything was fine.
January 9, 2009-
Fifth Visit!
Blood work again, and I managed not to get sick this time.
All is well still.
February 4, 2009-
Sixth Visit!
RHOgam shot, ha ha ha never felt it.
Dr. Whittington told me that I was having a perfectly boring pregnancy
and he would like to keep it that way! Lol.
Made my next appointment for 2 weeks away instead of 4!
February 18, 2009-
Seventh Visit!!
Just a regular visit.
Told me again that I was boring, he studied my chart forever trying
to find something to discuss and he just couldn't!!
Athough he told me that he doesn't expect me to go but only about
eight more weeks instead of ten!!!!!!!!!!!!!!!!!!!!
March 4, 2009-
Eighth Visit!
Great heartbeat as usual.
Everything still looked wonderful!
March 18, 2009-
Ninth Visit!
My feet were a little swollen but he said that was totally normal.
Everything all looked great.
April 1, 2009-
Tenth &(little did I know) Last Visit!!
Went into the office for what I thought was just another normal
visit.
I was kinda excited because after this visit I'd be going back
weekly instead of bi-weekly!
They did my strep test at this visit.
Little did I know though, my blood pressure was through
the roof, I had protien in my urine, and my feet were swelling.
He told me he was going to send me to the hospital for a
Preeclamsia work up and chart my blood pressures while I was
resting in a quite and peaceful place.
Test results came back and they were positive.
He then came in and told me I wasn't going home without a baby.
They started my I.V. with the antibiotics since they didn't have
time to wait on my strep results and Magneisum for my high
blood pressure.
Later that night they started the Cervidel.
April 2, 2009- Birth Day!!!!
They started my pitocen at about 10 am.
Around 2 pm I was dialated to a five and the baby's heart rate
kept going down so they decided to turn the pitocen off and see
if I could progress on my own.
Still not really in any pain, I decided to get the Epidural just incase.
At six thirty pm I still hadn't made any more progress, so they
told me I was going to have to have a c-section.
I really never got scared.
It was quick and easy