I'm Danika. I'm 25, been married to my wonderful hubby, Darren, since 8-8-08. We have Ronan (January 2010) and he is a total ball of energy! We live in Rock Hill, SC and LOVE it compared to Washington state, where we were raised.
Much has happened since I was last on here, so I will have to update a few things. Since having Ronan, we started trying again in October of 2011 and had three more miscarriages between then and February of 2012. Had all the tests done for Lupus and auto-immune diseases because we were having so many losses. Well in June of 2012 I was diagnosed with Non-Hodgkin's Lymphoma. I went through 6 rounds of chemotherapy and was finished in October 2012. As of this update (March 1, 2013) it has now been 4 months since my last round of chemo! In 2 weeks I will get an updated scan, and plan to start trying for another little one very soon, hoping that the chemo hasn't wiped out my chances!
Ronan Alva - Born Jan 13th, 2010 at 6:27am. 9lbs 3oz, 22in long.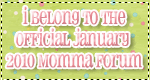 Pregnant with Ronan. EDD Jan 13th 2010
April 8th 2009 - LMP. Starting weight: 117lbs
April 18th 2009 - hcg: 5788 (awesome!) and progesterone: 13 (kinda low)
April 19th 2009 - Doc prescribed prometrium supplements and low dose aspirin
April 20th 2009 - hcg test #2: 11,000 somethin...haha dunno the actual number cause I was just too excited for hearing the 11 part.
April 22nd 2009 - FIRST ULTRASOUND!!! saw our lil grain of rice. 2mm.
June 4th 2009 - 2nd Ultrasound! Saw and heard the heartbeat! 167 bpm! Changed due date from Jan 13th to Jan 16th.
July 1st 2009 - OB appt. Couldnt get the heartbeat on the doppler, so I got a surprise ultrasound! Baby was moving around like crazy! no wonder we couldnt hear on the doppler! Everything looked good!
July 3rd 2009 - Telling our families
- Went well! our moms cried, and then Hubby cried
Everyone's super excited!
July 11th & 12th - Cleaned out the "storage bedroom" and made it the baby room
July 15th 2009 - 14 week OB appt. HB 160
All blood tests came back great!
Aug 19th 2009 - 19 week OB appt. HB 150
Everything was perfect!
Aug 25th 2009 - 20 week ultrasound -
ITS A BOY!
Measuring right on schedule! Looks very healthy!
Sept 14th 2009 - 23 week OB appt. (cuz I'll be in Cabo for the 24 week appt!) HB 150. Got the ok to travel
Sept 19th-26th 2009 - Babymoon in Cabo!
Actually its our honeymoon a year late, but oh well! Last vacation as just hubby and I!
Oct 19th 2009 - 28 week OB appt. & Gestational Diabetes test. Results are: I'm anemic - easy to fix, and didnt pass the 1hr test so I gotta go back for the 3hr.
Oct 28th 2009 - 3hr GD test at 7:30am
Nov 9th 2009 - 31 week OB appt
Nov 11th 2009 - Went into L&D for contractions and cramping. They told me I am at risk for preterm labor. They monitored contractions and checked my cervix which was still closed, but really soft. Gave me Terbutaline to stop contractions which seems to have helped. Have to take it easy from now on, and no sex allowed.
Nov 22nd 2009 - Baby Shower with friends!
Nov 26th 2009 - Thanksgiving/Baby Shower with family!
Nov 30th 2009 - 34 week OB appt- Ronan's HR was in the 140's. my BP was 108/70. Checked my cervix again and no new progress in the last 3 weeks, which means the bedrest has been working! Only 2 more weeks of bedrest and then he can come out at any time!
Dec 14th 2009 - 36 week OB appt - 1cm dialated and 60% effaced! And no more bed rest! He should be out in no time!
Dec 21st 2009 - 37 week OB appt - still at 1cm, and now 80% effaced!
Dec 28th 2009 - 38 week OB appt - almost 2 cm, and almost 100% effaced. stripped membranes! hopefully that works! oh and I stopped gaining weight! yay!
Jan 6th 2010 - 39 week OB appt - No change since last week even tho I've been cramping, having contractions, and have so much hip and low back pain its rediculous! Doc stripped membranes again...cross your fingers!
Jan 11th 2010 - 40 week OB appt. - (39w5d) Still no change in dilation or effacement. BP was high at 122/108. Did blood tests, U/S for fluid levels, and NST. Fluid and NST was fine, blood tests were borderline for pre-e. Going back tomorrow for the same tests. Induction sceduled for Wed. Jan 13th at 6am unless testing tomorrow shows I need to stay to be monitored.
Jan 12th 2010 - Went in for Foley Catheter at 3pm to induce labor, and it worked so well I was admitted later that night just before 10pm!
Jan 13th 2010 - HE'S FINALLY HERE!!! and on his due date!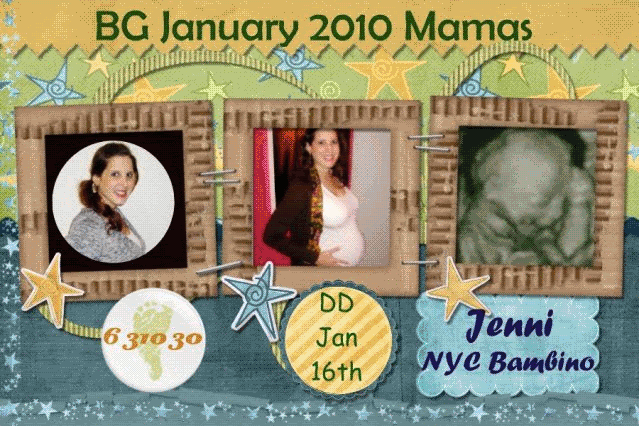 2nd place in Mrs. Washington BG Mama contest!