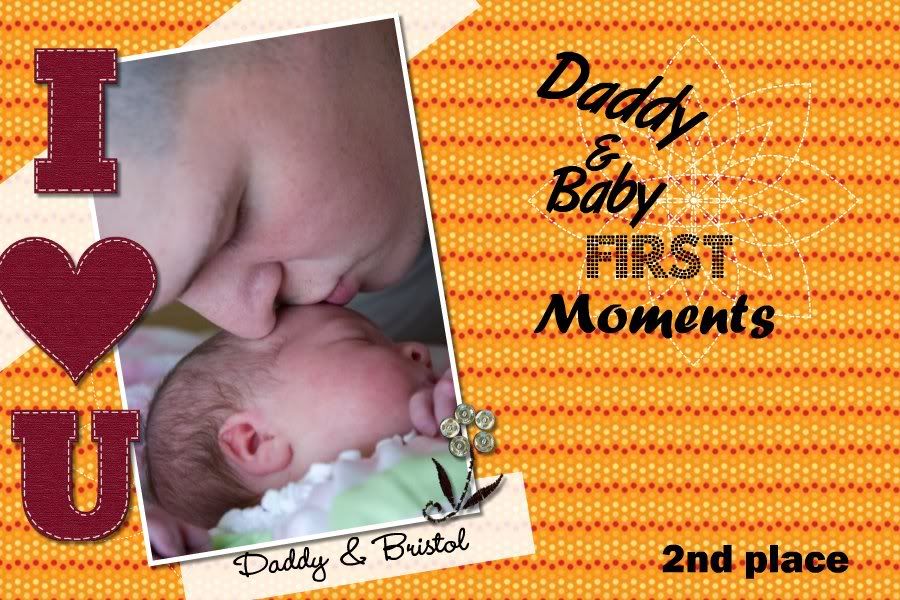 I joined Baby Gaga on Sep 23rd 2007!
I found out that I was pregnant with my first baby around the 16th or so of Spetember. I was about 5 weeks along when I got the BFP with a HPT. I had a couple of scares early on with some heavy bleeding that I thought I was or had miscarried. After I was reassured just after the beginning of my 7th week that everything seemed fine I started to relax a little more and began to try and enjoy my pregnancy in between the frequent trips to the loo for my morning sickness. I had severe hyperemisis for the first trimester and was soooooo glad when it finally eased after 16 weeks. During my first trimester I kept dreaming that I was having a baby boy, but everyone else kept telling me they thought I was carrying a girl. Turned out on Dec 20th that we found out indeed I was having a boy! I was so thrilled! Everything seemed to be going the way it was supposed to, until February when I found out that my little man was measuring really big for his due date. It was justa few weeks later that I was diagnosed with Preeclampsia.... I was put on bed rest and had to recieve a steroid shot for my sons lungs just in case. Well, it was only a week later at 32w1d that my son was to be born. I was going to see the High Risk Dr in Portland and while I was there I started having contractions and my BP was sky high. I was sent to the hospital to be put on medication and monitors in hopes that they could stop things from happening and could keep me under observation and on strict bed rest at the hospital. Turns out my body and my son had other ideas, and the Dr's were forced to make the call that they were going to have to take him via c-section that night. So 8 weeks early my little man entered the world on March 25th, 2008 at 6:45pm!

~*~*~*~*~*~*~*~*~*~*~*~*~*~*~*~*~*~*~*~*~*~*~*~*~*~*~*~*~*~*~*~*~*~*~*~*
My daughter was conceived around the middle of November just 8 1/2 months after my son Wyatt was born. We didn't actually find out that I was pregnant again until New Years Eve, when I finally decided to try a test because I had been experiencing some nausea from time to time at weird times never the less... So we rung in the New Year with the idea of a new baby on the way! I didn't get to see the Dr until the end of January, and at that time I found out I was just over 12 weeks! I had missed most of my first trimester! I wasn't going to complain though, because compared to the morning sickness I had with Wyatt this pregnancy was a piece of cake! I was really worried about getting up to and past my 32 week mark, as that was when Wyatt had been born, but that came and went with no signs of labor or other complications that I had experienced the first time around. We managed to make it to 39 weeks and 5 days when I went into labor all on my own! I got to the hospital and they got me settled in because even though I was in early labor my contractions were coming really close together. After 23 1/2 hours of labor, and caving in to get an epidural because they had to break my water too early on, my daughter Bristol was born via VBAC at 4:59am on August 11th, 2009! (One day before her due date!)
It was such an awesome experience to have my daughter handed to me for me to hold and touch right after being born... I lost that with my son... It was wonderful to be able to take my baby girl home the next day for her big brother to meet and get to know. I've never felt so lucky to have such beautiful babies in my life! My kids are my world, and while we would be happy to have just them, we're hoping for just one more little angel to complete our family...
*~*~*~*~*~*~*~*~*~*~*~*~*~*~*~*~*~*~*~*~*~*~*~*~*~*~*~*~*~*~*~*~*~*~*~*~
We found out July 31st, 2010 that our third baby is on the way! Had to wait until the beginning of September to see my PCP who put in the paper work for me to see the OB in Portland again. Saw the OB on September 10th, and found out that I was 13 weeks 2 days! We go back on October 22nd for the "big" u/s, and will hopefully find out if we're expecting another boy or girl!
We delivered our healthy baby boy Camden James on March 9th 2011 at 39 weeks exactly. I had developed high BP problems the the last month or so of the pregnancy so I was "induced" by having my membranes stripped and then my water broken on the morning of the 9th. I labored for awhile with my husband and two awesome doulas at my side until I started experiencing severe pain around my old incision, which lead to me being put under general anesthesia for an emergency c-section. While delivering my son they found a 6cm window on the front of my uterus that could have ruptured at anytime, so thanfully my OB reacted quickly and with the presence of mind that she did! He was a healthy 7 pounds 8 ounces and 19 inches long. While he wasn't the second VBAC baby I had been hoping for, I am ever so grateful for the healthy delivery of my son Camden and the fact that I still have my uterus intact!
~*~*~*~*~*~*~*~*~*~*~*~*~*~*~*~*~*~*~*~*~*~*~*~*~*~*~*~*~*~*~*~*~*~*~*~*
I just had to include this poem in my page as well.... I found this on another girls page, and I just thought that it spoke to me.... I hope you enjoy it too...
A newborn's conversation with God (Beautiful!)
A baby asked God, 'They tell me you are sending me to earth tomorrow, but how am I going to live there being so small and helpless?' God said, 'Your angel will be waiting for you and will take care of you.' The child further inquired, 'But tell me, here in heaven I don't have to do anything but sing and smile to be happy.' God said, 'Your angel will sing for you and will also smile for you . And you will feel your angel's love and be very happy.' Again the child asked, 'And how am I going to be able to understand when people talk to me if I don't know the language?' God said, 'Your angel will tell you the mostbeautiful and sweet words you will ever hear, and with much patience and care, your angel will teach you how to speak.' 'And what am I going to do when I want to talk to you?' God said, 'Your angel will place your hands together and will teach you how to pray.' 'Who will protect me?' God said, 'Your angel will defend you even if it means risking its life.' 'But I will always be sad because I will not see you anymore.' God said, 'Your angel will always talk to you about Me and will teach you the way to come back to Me, even though I will always be next to you.' At that moment there was much peace in Heaven, but voices from Earth could be heard and the child hurriedly asked, 'God, if I am to leave now, please tell me my angel's name.' God said, 'You will simply call her, 'Mom.'
~*~How Preemie Moms Are Chosen~*~
Did you ever wonder how the mothers of premature babies are chosen?
Somehow, I visualize God hovering over Earth, selecting his
instruments for propagation with great care and deliberation. As he
observes, he instructs his angels to take notes in a giant ledger.
"Armstrong, Beth, son. Patron Saint, Matthew.
Forrest, Marjorie, daughter. Patron Saint, Celia.
Rutledge, Carrie, twins. Patron Saint...give her Gerard. He's used to
profanity."
Finally, he passes a name to an angel and smiles.
"Give her a preemie." The angel is curious. "Why this one, God?
She's so happy."
"Exactly," smiles God.
"Could I give a premature baby a mother who knows no laughter? That
would be cruel."
"But does she have the patience?" asks the angel.
"I don't want her to have too much patience, or she'll drown in a sea
of self-pity and despair.
Once the shock and resentment wear off, she'll handle it.
I watched her today. She has that sense of self and independence so
rare and so necessary in a mother.
You see, the child I'm going to give her has a world of its own.
She has to make it live in her world, and that's not going to be easy."
"But Lord, I don't think she even believes in you."
God smiles. "No matter, I can fix that. This one is perfect She has
just the right amount of selfishness."
The angel gasps, "Selfishness?! Is that a virtue?"
God nods. "If she can't separate herself from the child occasionally,
she will never survive.
Yes, here is a woman whom I will bless with a child less than perfect.
She doesn't know it yet, but she is to be envied.
She will never take for granted a spoken word.
She will never consider a step ordinary.
When her child says momma for the first time,
she will be witness to a miracle and know it.
I will permit her to see clearly the things I see--
ignorance, cruelty, prejudice--
and allow her to rise above them.
She will never be alone.
I will be at her side every minute of every day of her life
because she is doing my work as surely as she is here by my side."
"And what about her Patron Saint?" asks the angel, his pen poised in
the air.
God smiles. "A mirror will suffice."