<a href="http://www.dolliecrave.com"target=_blank>
<img src="http://www.dolliehost.com/dolliecrave/graphics/pregnancyglitters/16.gif" border=0 alt="Baby On Board Myspace Glitter Graphics from dolliecrave.com"></a><br><a href="http://www.dolliecrave.com/pregnancyglitters.shtml"target=_blank>Pregnancy Glitter Graphics</a>
<a href="http://www.dolliecrave.com"target=_blank>
<img src="http://www.dolliehost.com/dolliecrave/graphics/pregnancyglitters/36.gif" border=0 alt="Pregnancy Glitter Graphics from dolliecrave.com"></a><br><a href="http://www.dolliecrave.com/pregnancyglitters.shtml"target=_blank>Pregnancy Glitter Graphics</a>
Today I found Out I am expecting our second. I am about 5 weeks and 3 days according to the tickers and my due date would be november 25th. Piper will be 3 just a week or two before our surprise is here. I am hoping that is a good age apart. Hoping for a girl but ill be good with either!
Piper Jayde Yeary is here! She was born on Monday November 9th at 10:08 weighed 7.0 and was 19 and 1/4 inches long.
I had a complicated c section and we have to stay for a bit in the hospital to get meds out of her system. We were in the hospital for 11 days! Iwas so excited to leave i was beginning to feellike we were going ot be there forever!
She is perfect!
I feel so blessed to be a mom and have a great baby daddy
That word makes me laugh. I live in indianapolis In and would like to meet other moms on here.
Here is a link to my sellin thread.. All GIRLS 3 months right now.


Piper Jayde Yeary Age three months


Boobie Monster!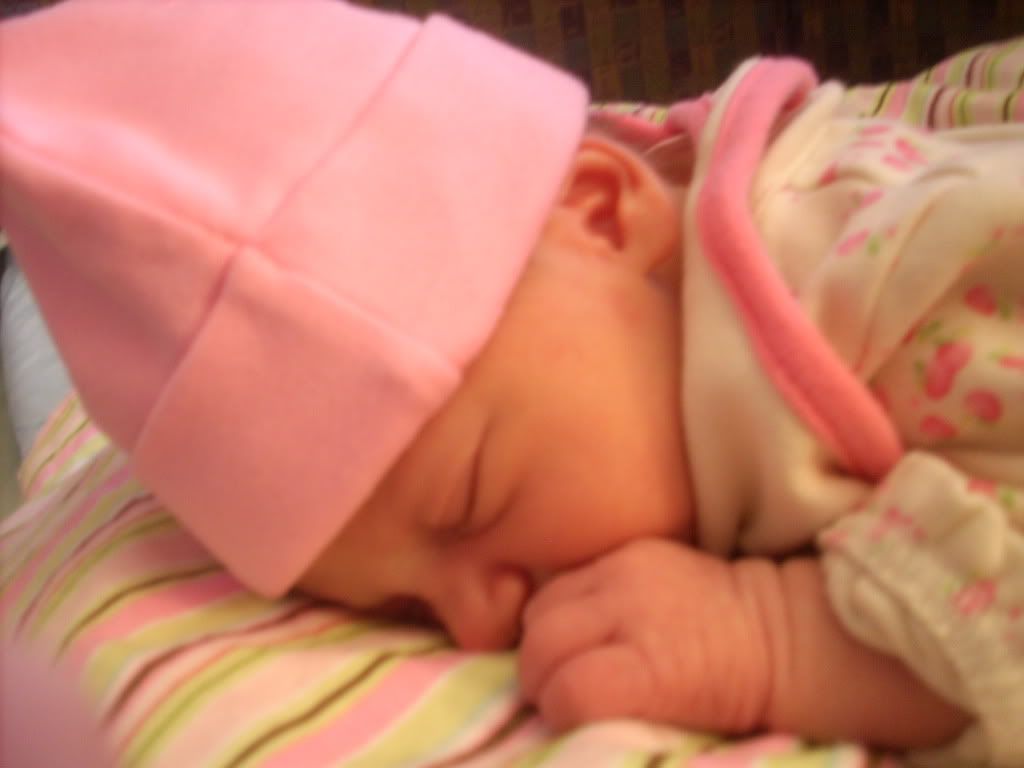 Piper Jayde you stole my heart!
Piper is now 10lbs! Wow she went from the 10th percentile to the 50th! In one month.. I guess thats some good boobie juice!
Jan 8th update We have been to the doctor and Piper is now 11.5 lbs! she has been diagnosed with bad acid reflux and isnow on Zantac! We are doing half expressed breast milk and half Enfamil Rs . Lets hope this helps!
January 18th----Piper rolled over from belly to back today! That was her 3rd time but the first one that daddy got to see! Yea Her acid reflux is getting much better and she is still on the zantac. She slept through the night last night--7 hours straight!!
January25th----Piper rolled over at the gym today 3 times! Each direction
March 4th-- Piper is trying to sit up now.. no more propoing her in the corner of the couch next to me she oulls herself forward ans can topple over to the side! She like to play peek a boo now!
March 2oth. Piper is sorta doing a tripod sit now.... Just not for very long at a time.. She also uses her legs to scoot in a circle when placed on her back. She is using her legs and sorta scooting on her back so funny to watch!Laughs. smiles, and giggles... I love being a mom!
April 6 th, 2010. Piper had a doc apt last friday and she has finally doubled her birth weight well almost..she weighed 13.12, in the 35th percentile!Can't belive she is almost 5 months old.Wow. Her newest trick is to take her paci out of her mouth and put it back in. she gets so proud of herself!
May 9th 2010---- Piper is 6 months old! She is holding her bottle sleeping through the night, rocking on her hands and knees, sitting up alone and says mama and hi! And sometimes a dedede sound! We started solids and she loves everything we have tried with her. She is so happy and makes me laugh!
JULY26
been a while since i updated! piper has been pulling herself up to a stand for about 2 weeks now. she is starting to let go and stand for a few seconds. eating foods out of her mesh feeder.. loves lil puffs! says cat up mama dada and hi. into everything. I think she will be walking in a couple of months. weight is 17 pounds not sure of height.