I'm
Life is pretty surprising sometimes.
I decided I don't want to have pictures up on here so I took them all down.
I have a son I call Hippo or Hippy who is the light of my life. He is my whole world, I would be lost and living in the dark if it wasn't for him. He literally saved my life, I was making very bad decisions before he surprised me with his existence and I couldn't be happier.
.


We weaned at: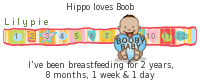 I'm also expecting baby number two!
I'm so excited for this new addition to my little family.