Hello everyone, My name is Christina and I am 27 years old. I am a proud mommy to a beautiful daughter who was born stillborn at 21 and 1/2 weeks. If you would like to know more about why we lost her feel free to ask and I will tell you my long story. But the main reason why I lost her is because I have a didelphic uterus, so there was not enough room for her to grow anymore....this caused my water to break at 16 weeks and she came on her own 5 weeks later but did not survive the delivery.
We decided to TTC again a couple of months after and with no luck in March we decided to seek help from a fertility specialist. Well, with only a blood test to see if I ovulated, and other test scheduled to happen, two weeks later......A DAY after the one year anniversary of our daughters death, I got a BFP on four HPT's and then an official BFP from blood work the day after......WITHOUT ANY HELP from the fertility DR.
This pregnancy was so scary, I had my ups and downs and dr app...with high risk drs every two weeks in the begining and then at 16 weeks we started going every week......at my drs appointment on Aug 23, I was 22 weeks exactly...the ultrasound shown that I was between 2-3cm dialated and my bag of water was bulging....they admitted me to L&D right away.....that night they attempted to do a cerclage but were unable to do so.....so I was officially in the hospital to stay until she came....I made it to 24 weeks and was givin steroids to help her lungs......a week and 6 days later (Sept. 19, 2010) I went into full blown labor at 6:30 am and she was born by c-section at 9:58 am....it all happened so fast......
she weighed 1lb 13 ounces and was 13.5 inches long......
She came home from the NICU after a LONG 69 days, but that is short for a 25 weeker the neonatologists said, and that she is super woman because no 25 weeker should be doing that good......She fought through her lung disease, through NEC (a very bad bowl disease that could have killed her), and is currently fighting ROP (an eye disease) which is slowly getting better and better......as of 12/15/2010, 4 days shy of being 3 months old going by her birthday, she weighed 6 lbs 1.5 ounces......getting bigger and healtheir everyday....
we have a long road ahead of us filled with many dr appointments and services within the home to help her grow and develop to her fullest potential......
Im loveing my little micro preemie miracle.....she has taught me to relax in life and that there are much more things to worry about rather than getting all stressed out over the little things, and to cherish every moment because you never know when things could change!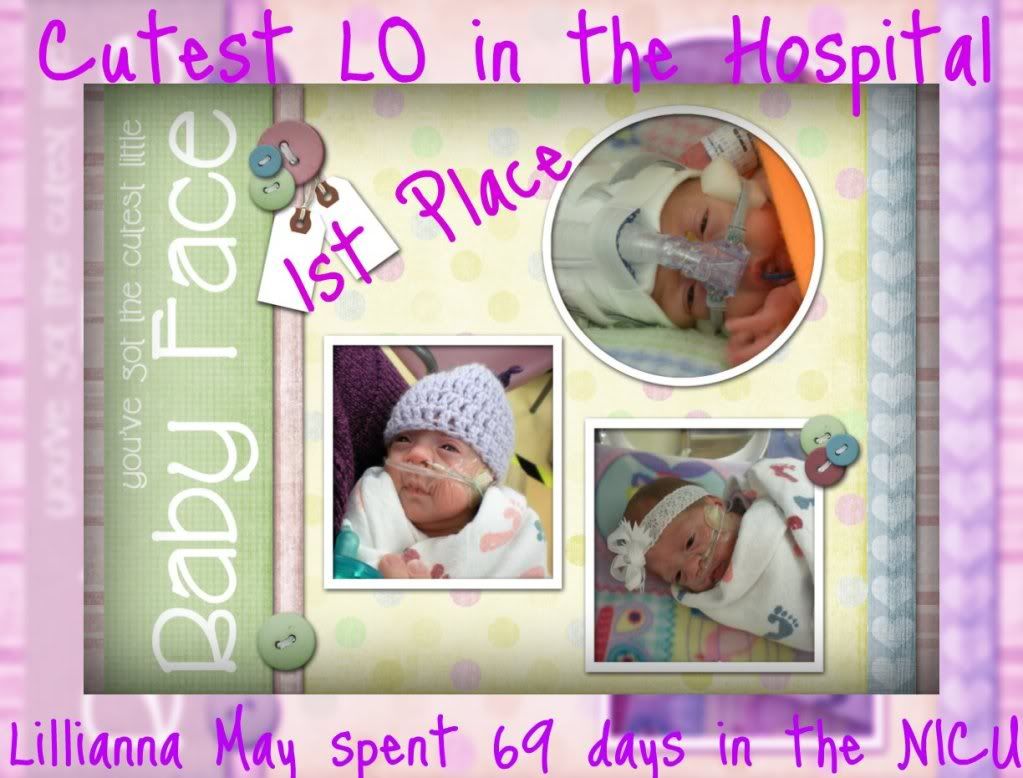 Lillianna May
9-19-2010
1lb 13 oz, 13.5 inches long