PROOF I'M THE REAL FUCKIN' DEAL.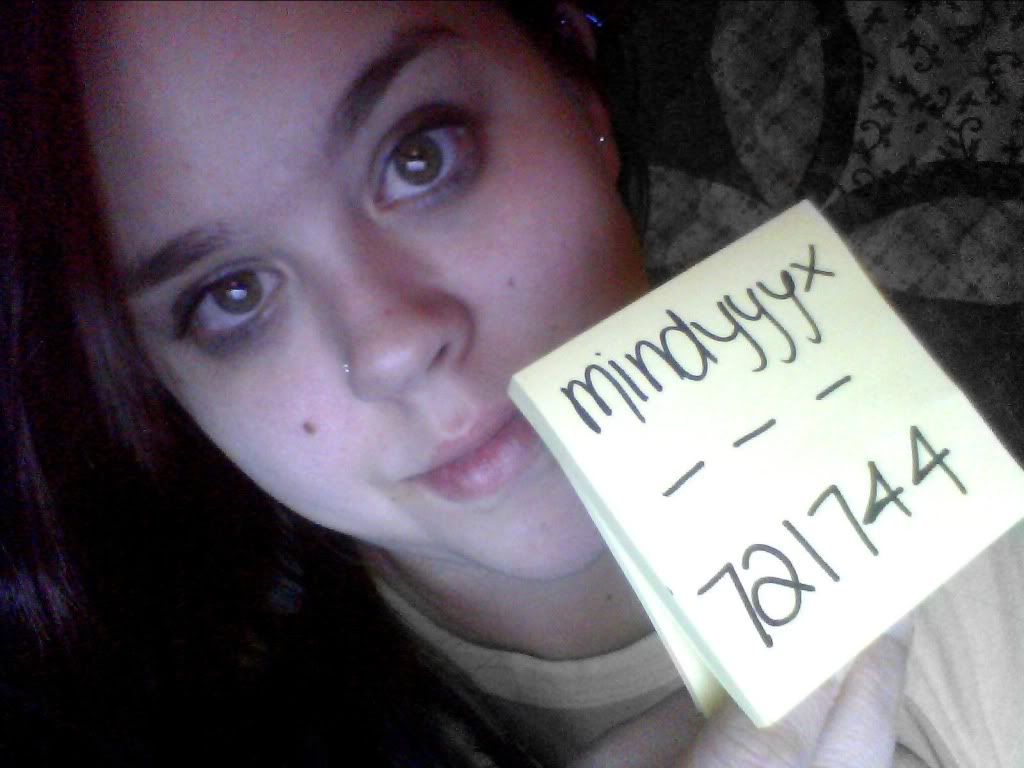 I'm really understanding and non-judgemental, people tell me i'm blunt and get straight to the point. I like
people
for who they are and not
what's plastered on the
outside
, I do have a limit, but I'm not
superficial.
I'm one of the few people who can read a book, watch TV, and talk on the phone all at the same timeŚI relish thinking on several levels at once.
I love meeting new people.
I
am in love with the
most beautiful boys
in the world. They have my
whole heart
and
soul
.
.
I
never
want to live any day without them on this earth. They makes my life worth living and helps me live with
meaning.
They are the
sunshine in my life that lights me up even on the
darkest nights
.
made by :
Jessica aka "short lil shyt".
thanks mama!!
EVAN'S BIRTH STORY.

I am a Tokin KOM...dgaf what you think/say about it either!
See you soon my AMC family!! In January! <3
Preggo with booboo #2 <3
About Mommy:
Name: Mindy
Age: 20
First child? No
About Daddy:
Name: Ishi
Age: 22
First child? No
Finding out:
What day did you find out? August 30th
How did you feel when you found out? Scared and freaked out lol
Who was with you? Boyfriend
Who was the first person you told? Boyfriend
How did the daddy react? He Was Very Shocked.
Telling the parents:
How did your parents react? My Mom was mad and disappointed but got over it.
How did his parents react? They were excited.
Are they helping with baby names? Nope haha, I'm very picky.
Have they bought anything for the baby yet? Nope lol
How often do they call to check on you? I live with my mom so everyday.
About the pregnancy:
When was your first appointment? September 19th.
When is your due date? May 6th.
How far along are you? 12 weeks.
Pre-pregnancy weight?....
Weight now? ....
Have you had an ultrasound? yesss
Have you heard the heartbeat? yesss
Sex of the baby:
What do you want? Girl
What does the daddy want? Girl.
What do you think your having? Girl
Have you had your big ultrasound yet?YES IT'S ANOTHER BOY!
About the birth:
Do you know what you are taking with you? When that comes yes lol
Who is going to be with you? My mom, Ishi and evan.
Are you going to videotape it? No, just pics of after it's all done
Natural or medicated? Medicated/ C section
Do you think you will need a c-section? Duh. Repeat c section.
Will you cry when you hold your baby for the first time? Yes
Are you scared about the labor? Noope not going to have any.
Names:
Do you have a name picked out? Yes, Trent.
Boy names: Trent!
Is your baby going to be named after someone? Only middle name. Edward.
Other random questions:
Where was your baby conceived? My house lol
Have you felt the baby move? Yes
What ethnicity will your baby be? Native American/ White
Do you have stretch marks? Yes, from Evan lol
What was your first symptom? no period
What religion will the baby know? none
What music or interest do you want the baby to know? Any.
Will your baby have godparents? Yep.
What was the first thing you bought for the baby? A couple of outfits.
<3- - - - - - - - - - - - - - - - - - - - - - - - - - - - - - - - - - - - - - - - - - - - - - - - - - - - - - <3
First Trimester
1-4 weeks (1 month): done! <3
5-8 weeks (2 months): done! <3
9-13 weeks (3 months): done! <3
Second Trimester
14-17 weeks (4 months):
done
!<3
18-21 weeks (5 months):
done
!<3
22-26 weeks (6 months):
done!
<3
Third Trimester
27-30 weeks (7 months):
done!
<3
31-35 weeks (8 months):
done!
<3
36-40 weeks (9 months): baking!!