My name is Krista, im 25 years old married to an amazing man named Richard and am blessed to be the mother of two beautiful little girls that are my heart and soul <3<3<3
I met Richard, Decemeber 7th 2009 when I started at a new job. We started officially dating Jan 12 2010. We had to keep our relationship a secret because of the "no dating at work" policy. I found out we were pregnant March 28 2010, I was scared absolutely sh*tless because we had only just started dating. I did the test by myself and when it said positive I was soooo nervous!! I called my sister bawling to come home, showed her my test (she started crying to but it was because she was so happy lol). I called Richard (still crying) telling him that he needed to come over ASAP. When he came over I sat him down on my bed and omg was it hard for me to get it out..When I finally got it out that I was pregnant he just responded "Oh thank god!! I thought you were breaking up with me" and he gave me a big hug and kiss and told me he supported me with whatever I wanted to do. I told him straight out that I didnt believe in abortions (my own beliefs not judging anyone) and that if he wanted out there was the door..
Well he never went anywhere and we gave birth to a beautiful daughter November 24 2010 named Nevaeh Marie Ann <3. The love I felt the instant I held her was the most intense feeling I've ever felt in my life. She truly became my world. Richard and I got engaged that Christmas Eve which was a huge suprise (and oh boy did I get spoiled!!!!). Nevaeh woke up and he told me to go back to bed he was going to get up with her. I dozed back off and the next thing I remember was Richard saying something was wrong with my cat Emma (my fur baby) and I needed to come quick. I jumped outta bed so fast to see rose petals going up the stairs to the living room that had lit candles, champagne, 2 poured glasses and a big wrapped present. Still not knowing what was going on and being half asleep, Richard brought me over to the present and told me I get to open one before everyone else. Totally thinking I was getting a puppy and the collar was going to be in the box (no idea why) I opened it and there was one rose in the box (totally confused) I picked up the rose and down the stem slid a big diamond ring!! I was in complete shock, Richard took the ring and said his beautiful speech (that I know he practiced lol) and asked me to be his wife <3
We had started planning the wedding when I found out I was pregnant again!!! We had another beautiful daughter October 30 2012 named Zofia Doris Mae <3 I know people were born to do something whether its their career or a hobby or a sport etc I was born to be a mother. I never knew what I wanted in my life, career wise. Never had anything I was really really good at..until I became a mom. They are the best thing ive ever done in my life. My girls are 2 years and 5 months old and I am the most insanely proud mom there ever was. They are my everything<3<3
After Zofia was born I wanted to be married to the man that gave me everything Ive ever wanted. So January 12 2013 I married my prince charming <3<3 We have our ups and down but I know at the end of the day we will always fight for each other and our family. We are each others soul mates. We fight hard but we love harder!!!
comment
posted 7th May
Your engagement story made me misty eyed lol!! How sweet!!
Congrats on your wedding!!
*A&N's Mama*
Katerina Petrova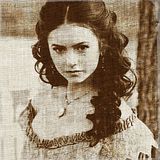 malibu.
Rain (aka Mama)
♥ Mrs. S ♥

LayLu
Amanda Corbin
Dillypop