Hi I'm Elizabeth, nice to meet you. I had my first daughter at 18 my second at 21 and Miscarried twin babies May 2010. I'm 33 now and will be pretty close to 34 by the time this new little baby comes . I'm thrilled and terrified at the same time. There is nothing greater in this world then being a mommy.On May 23rd I became a "new mommy again" lol to a perfectly precious little boy. I love the fact there's a place where women can get together and talk about anything. So far I've meet some truly beautiful people
I don't mind random Pt's and love talking to people.
It's now 2012 and I'm about to be 35 this June , I decided that my year old son needed a playmate so looks like we are going to have one more little precious bundle Feb of 2013!!

1-4 Weeks - 1 Month -
Complete
5-8 Weeks - 2 Months - Complete
9-13 Weeks - 3 Months baking
14-17 Weeks - 4 Months -
18-21 Weeks - 5 Months -
22-26 Weeks - 6 Months -
27-30 Weeks - 7 Months -
31-35 Weeks - 8 Months -
36-40 Weeks - 9 Months -Incomplete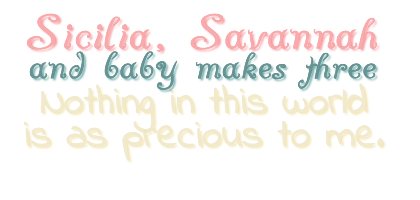 About Me

Name?:Elizabeth
Age?:35
Height?: 5'
Pre-pregnancy weight?: 190 lbs

About The Father

Name?: Shane
Age?: 48
Height?: 5'8
Are you still together?: Yes 18 years


About Your Pregnancy

Is this your first pregnancy?: no 5th
When did you find out you were pregnant?: June 17th 2012
Was it planned?: yes
What was your first reaction? Shock. we were trying but not trying hard lol
Who was with you when you found out?: my family
Who was the first person you told?: Apart from my family who was there.. my mother.
How did your parents react?: shocked and worried
How far along are you?: almost 13 weeks
What was your first symptom?: Sickness day and night .
What is your due date?: Feb 25th 2013
Do you know the sex of the baby?: no
If so, what is it?: will update
Have you picked out names?: Nope, can't decide!
If so, what are they?: Torn between a few,
How much weight have you gained?: 7 lbs so far
Do you have stretch marks?: Yes, .
Have you felt the baby move?: not yet
Have you heard the heartbeat?:yes
About the birth

Will you keep the baby?: YES
Home or hospital birth?: Hospital.
Natural or medicated birth?:.natural if I can at all
Who will be in the delivery room with you?: My hubby
Will you breastfeed?: yes
Do you think you'll need a c-section?: Hope not!
Will you cry when you hold the baby for the first time? yes
What's the first thing you might say to him/her?: I love you
Would you let someone videotape the birth?: No
Are you excited about the birth, or scared? both

0%
>