We had our little girl on march 15th at 9:44 am 8 lbs and 19 1/2 in long... thats was the best day of our life! ... all in all it was best thing that has ever happend to me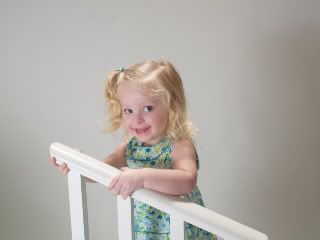 she's 4!!! where does the time go??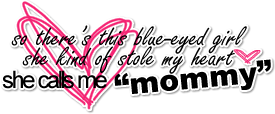 Tom and I have been together since 07!

i just got my ring on 8-9-2010 Ilove it
we got married on June 19th 2010!!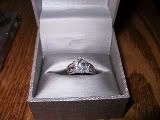 .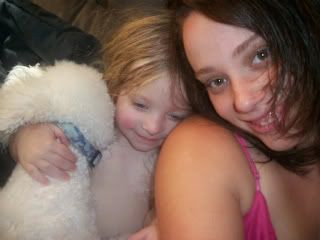 BFP june 24th 2011
BFP june 25th 2011
First doc appt. friday july 8th 2011
july 4 2011 spoting light
july 5th started spoting alot more
went to doc had a ultsound, saw a little bean should be about 6weeks baby was at 5 weeks and 4 days, had blood taken, doc told me to still at as if it was there untill all the test come back keeping my head up.....
july 6th hgc was be low normal and blood suger was high
still waiting on more test but it looks like its may not make it ...
july 7th hcg numbers from last blood taken 28856 or something like that blood suger 170
went in to have blood taken again today got a call tonight hgc was at 560 and blood sugers where at 200 something dr told me i have type 2 diabetes, and that may have something to do with it.... but in away it was a good thing is all happend now i know that there is something that could of got way out of hand and now i can get it taken care of!! i had gd with maddy so. the doc (who bye the way i LOVE!!) told me that if i can get on this diet and get out more, cut out pop this could just go way and ill always be pre-diabetic and always have to keep an eye on this but that just mean ill be healthy and happy and when i do have my next baby this will be ok becouse i am healthy it hurts to not know what could of been but there is nothing that i can or could of done and i now know that there is something i can do now and im ok with that! just have to keep my head up and plow head on !
11/10/11
*as of my last doc appt in oct sometime lol i have lost 15 pounds!! go me!
i no longer have to do my blood sugers every time i eat now only have to do it once a day... and i am and have been on the smallest mg of metformen they give.. had blood done up my i think a1c is 5.4 so i got that down from 10,5 to 5.4 so thats it good
*update*
12-12-11
had blood done last week and my A1C this time was 5.5 so yay!!
havent lost any lbs or gained any so yay!!
and RA test was - it was like 0.2 so dont have that so thats great doesnt tell me why my hips/joints have been killing me for like years she started me on fish oil and some otc pain pills so i hope tha'll help...
other then that all really great news today!
hoping to get a bfp for xmas that would be great! feel good about this month!
*update*
so much for feeling good about this month af is here tonight 12-16-11 cd 26
af
july mc
8-7-11
9-2-11
9-28-11
10-25-11
11-21-11
12-19-11
1-11-12
BFP 2-6-12 OMG
blood sugers have been really good so far!
1st doc appt 3-1-12 it can get here anytime!
3-1-12 1st doc appt
got to see the heart beat today 155 bpm look like we are 6 weeks 6 days!
everythning looks good blood suger are great so yay!
next appt 3-19-12
will be going every 2 weeks for now us every other time yay!
3-7-12
went in agin today had a lot of brown discharge yesterday afternoon and i have a cold yay! she did an u/s in the room and baby looks good and has a nice yoke sac. so i think i can stop crying for today. i have to say i love seeing that lil heart beat! cant wait for the 19th to hear it.
Progesterone was 25 something so good news there!
164
3-19-12
had appt doc found heart beat today 150 so thats good. blood sugers are good took me of the metformen got back in two weeks for an u/s and testing as long a blood sugers are good that is there higher ill go in sooner but so far so good<3 164
3-23-12
last night my blood suger was crazy high i guess. called had to take 1half met and then had to come in this am, got put on an long acting insulin 5ml really small dose for now at night but it makes me feel better that she was will and did do something about it. and on a good note baby sounded good took a bit to find it but she did so yay! oh and i have lost a pound lol 163
4-3-12
had nt sacn and blood done everything look good with the bean hb was 165 and it looked like im about 12 weeks 6 days so a due date of oct 13 so any time from the 13 to the 19th it'll come lol and i have gained 2 lbs and the one shot has been doing really well for my bs if anything there running a little low so its nice i can eat a little more.
165
4-24-12
got to see little bean today it has gotten so big from the last time we saw it! hb was 152bpm blood suger are looking really good and still 165 so doc want me to try and gain a little i guess will be finding out what it is on may 11! i cant wait omg!
may 3 12
had to go to the er for pain all over down there just couldnt take it... baby looked fine nothng worng with me just hurt
may 4th follow up appt after er had and us and everything looked ok with everything and the baby so who know but we did find out its a BOY!! omg
may 11th
had another us baby looks really good a few days ahead but good! and its still a boy got a new insulin pen love it so much easier!
may 16th blood sugers are driveing me nuts! i feel like im losing it lol feel like im at the doctors all the time either that or im calling them bc bs is to low or to high ugh i just dont know but as long as he is fine im ok but i really feel 50% of the time im doing to worng or something.
go back next week, his hb was 147, wight was 167 she seem oh so happy about that! now i just have to get happy about that!
6-10-12 Daddy got to feel baby just in the last week i can feel him kick more
6-12-12 feeling great have another us on the 14th to make sure he is the right size and all that good stuff cant wait to see him again then a doc appt. blood sugers are good add a long acting insulin at night idk if it is working i cant or dont see a change really?
12-14-12
baby look great 1 lb even! and still a boy! upped my night time shot to 6 uts. due date i guess is the 17th not the 12th so we are 22weks 1 day today she told me if i wanted to try and eat 1 to 2 more carbs at 2 or all of my meals to help with the wait gain... as of now and her looking back i have gain 3 lbs i gusse i lost 2 lbs so if we add that up i gained 5 lbs.... shed like me to gain 10 lbs but we are good as long as little man is growing she isnt worried about it... go back in july 2nd as long as my numbers are good....
july 25 12
28 week us and he is still a he 2 and half lbs, A1c is 5.2
start going every two weeks now next appt is 8-812
umm lets see today is the 8-1-12
2and half weeks ago went to l&d for pain in my right side turns out that maybe had kindey stones idk still havent felt them pass so who knows it thats what was going on but never want to be in that much pain ever bring on labor....
8-20-12
going weekly now doc appt and nst... thing lookd great to day havent gained anything in a week so we are still up 14lbs still wants me to gain a little more... easy said then done when you cant eat crap. baby boy looks good 33 week spot on ... doc said i need to start thinking about the day id like to have him any day b4 the 12th i think ill hold off on that cuz madi came at 38 week even so blood sugers are looking good. got little mans room done just waiting on him 5 weeks to go! oh and he still doesnt have a name lol... oh and we got a 3d us today for free!! so cool he look just like his big sister! <3
10-8-12
pain started at 7:30 were nothing bad but there thought it was just an up set tummy cuz i was liveing in the bathroom about 11 huddy talked me into calling l&d cuz he was at work and needed to know if we should go in. talk to the nuse she wanted me to come in only becouse i was already 4 at my last appt. 12 30 took madi to a friends and head in, on the way up the cx died down so we went shopping a bit at 1:00 got there was checked was six to 7 if not more... omg we are haveing a baby. doc came in at 2:00 or 2:30 and broke my water and then the pain picked up but still didnt feel like it was anything bad very easy to work though untill about 3:00 i felt his head drop felt like i was sitting on his head about 3 15 he was coming didnt even need to push he was just falling out and doc wasnt there yet the nures told me she was running down the hall she would be there. told her he was comeing out and she need to get him out plezz lol she didnt even have time to get her stuff ready or my legs up or anything she told me to push but i couldnt the way i was laying so i tryed to sit up to get my legs up and his head popped out then one little push his body came out so really not to much work on my part lol
at 3:22 pm terver eugene came in to the world at 7 lbs 10 oz 19in long love that little man!
10-11-12 went back to have levles tested numbers went to 15 so we chose to do in home bl lights so back sat am to have them retested
10-13 12 levels still high so he'll stay on the lights till sunday night then go in monday again for retesting
10-15-12 levels are now fine and no more lights no more pokeing!
10-16-12 8 days old big sis had a high fevor last night of 103.6 yay! and this moring trevor has a fever of 100.4 off to the dotors we went got there at 9:30 his temp there was 100.5 got blood done, x-rays and waited bye 1:00 still had a fever told me if we need but more then likely we would be off to blank childen in desmoines she called and they felt he need to be there. at first doc thought we could just drive down but blank said they would be sending a helicopter just in case he would need help or something bad where to happen. this truning out to be the worst day in my life but by the time they got up here his fever was down to 100 and he was ok, they did more test before they left and hubby and i drove down. he made it down there before we did and they called and said they were going to do more blood work and a spinal tap. 2 hours later we made in and he was doing great, test came back the next moring and showed he has/had viral meningitis and thats the neningitis you would want if your were to get meningitis! so all ok new still felt so bad for my little guy! but thank god he is ok! had to stay untill all the test came back or at lest 48 hours. by friday night we got to go home with a appt with his doc 3 to 5 days. he all better now lets hope!
10-17-12 had his appt today, sunday night he stoped eating all that much he would only eat for about 4 mins then stop every 2 hours so was not eating a hole lot told doctor and she wasnt likeing that so she had me time all of his feedings and when he ate pooped wet 10-19-12she call me i gave her the list of times all that and she had us come in and after we got there she made sure he was on right looked at all of that, she told me she would keep us over night and started him on some anit-aciod while we stayed and they weighed him before and after he ate, that was a long night and bye the am he seemed to be better and we knew he was eating when we left he was at 7 pound 10 oz
10-22-12 his weighing in at 7 pound 15 oz! so yay! to amy he looked good and still being a picky eat but eating so we;ll go back 11-16-12 with his doc to go over the meds but doing better!
11-8-12 trevor is one month old todday! and looking great!
<3 ODEY!