We have a little girl who is 2, and a baby boy who was born April 4th. First one was a vaginal delivery with no drugs and my second one was a scheduled c section with an epidural. People ask which one is better, and all I have to say is the both have their positives and negatives. our daughter weighed 7lb 10oz and our son was 8lbs 7oz.

My last pregnancy was extremely hard on me. I was literally in so much pain for 5 mos at times I thought I was dying. Anyone who knows me, knows I have a high tolerance for pain, so when I complained I hurt.. it was serious. Everyday tasks became struggles.

At the age of 25, my husband and I made a huge decision. It wasn't easy, and I believe it was the hardest decision I've ever made. We decided my body just couldn't handle another pregnancy, and I got my tubes tied. It's a still an everyday struggle for me, but it's getting easier. I don't think I will ever get used to the fact and completely adjust to the fact that I will never be able to have kids again. Personally.. I always wanted 3 kids and it makes it harder knowing I never will. But I thank God everyday for the 2 amazing kids he blessed us with and I am very grateful for them both!
comment
posted 13th Jun '11
I've seen some pics on his facebook and she is a spitting image of her daddy!! She is way too adorable! Oh yeah, things have calmed waaay down.. gotten a ton better. Im working part time at a golf course, love my job which takes some stress off of me from the home life.. got a dachshund so he's helping me with stress too.. Its great! How are you doing?
B*ns♥Mom
NicoleChaneymomma
Kekia_Ready_to_be_mom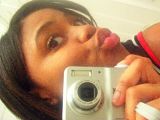 used to be here but not a
I❤Caitlyn&Daniel
Ashley Chisam
Living-Dead Girl