I'm 18, my birthday is Feb.18th 1992.
my boyfriend is Justin Kyle Groome, and he is amazing. We have had one miscarriage, and it has been really hard for me.. i feel like there is no one in my life that i can talk to about to 100% honestly without feeling judged. Hopefully this site will help me cope.
comment
anything that will put a smile on my face :)
Bentley's Mom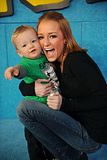 :mommy of 4:
Kenniths mama ♥
~*Mommy of 1*~
Jelly BOOBS!