╔═[.♥.]════════════════════════════════════════╗
My name is Christina ,This is my second Pregnancy ,I lost the first one 2 yrs ago I was 7 wks , It was so sad and painful,But everything happens for a reason , Im glad god has gave me a second chance to bring another life into this world . Im so excited ! I cant wait till he's here . Me and the father of the baby has been together for almost 2 yrs .This is His first baby ,He's So Happy thats all he ever talks about , is when is the baby coming ! Im Just glad that god gave me another chance to concieve again .
╚════════════════════════════════════════[.♥.]═╝
"Who are you to judge the life I live? I know i'm not perfect and I don't live to be, but before you start pointing fingers make sure your hands are CLEAN."
-Bob Marley

I FEEL YOU KICKING NOW AND THAT MAKES ME LOVE YOU EVEN MORE . IT SO CRAZY HOW I CAN LOVE YOU SO MUCH WITHOUT EVEN KNOWING YOU AND REAGARDLESS OF ALL THE EMOTIONS I AM GOING THROUGH NOW, BUT I KNOW YOU WILL BE HERE FOR ME MORE THEN ANYONE EVER WILL LATER IN LIFE...... SO IM GOING TO BE HERE FOR YOU NOW ...LOVE MOM
About You
Name?: Christina
Age?: 27
Height?: 5'3"
Pre-pregnancy weight?: 167
About The Father
Name?: Gary Eugene Jr.
Age?: 28
Height?: 5'9"
Are you still together?: Yes !



1-4 weeks (1 month)-
complete
!
5-8 weeks (2 months)-
complete!
9-13 weeks (3 months)-
complete!


14-17 weeks (4 months)
- complete!
18-21 weeks (5 months)
- complete!
22-26 weeks (6 months)
- complete!

27-30 weeks (7 months)-
complete!
31-35 weeks (8 months)-
complete!
36-40 weeks (9 months)
- loading!
DUE DATE is - October 17,2010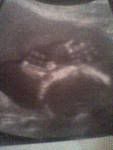 Bless this child inside my womb
As he grows stronger each day
Keep his in thy loving care
Watch over him I pray
With much anticipation
We're awaiting for his arrival
And depending upon You Father
For this tiny one's survival
We'll love his endlessly
And care for him our very best
He'll be our pride and joy
This child with which we're blessed
Some say he's not a baby yet
I'm certain that they're wrong
My feelings toward a group of cells
Could never be this strong
Help us to remember
He really is Your child
You've put him in our home
For just a little while
Lord please bless our family
With favors from above
As we grow in size
May we also grow in love
Amen..
About Your Pregnancy
Is this your first pregnancy?: no i lost the first one
When did you find out you were pregnant?: March 3,2010
Was it planned?: it just happened
What was your first reaction?: Happy
Who was with you when you found out? My Mother
Who was the first person you told?: My Mother
How did your parents react?: Very excited
How far along are you?: 35wks
What was your first symptom?: Morning sickness and Missed Period
What is your due date?: October 17,2010
Do you know the sex of the baby?: YES !
If so, what is it?: BOY !
Have you picked out names?: Yes
If so, what are they?: Gary Eugene 3rd
How much weight have you gained?: I was 144 now wieght 167 , I think I did pretty good.
Do you have stretch marks?: Yes !
Have you felt the baby move?: Yes and I love it !