We finally got our BFP on May 4th, 2011! Exactly 5 months since we got married!
I'm due on
January 15, 2012
. We are beyond blessed with our miracle baby and can't wait to meet our little snowflake "Emerson Wayne" or "Amelia Dawn".
Important Dates
April 10, 2011
-Start of last period
April 23, 2011
-Severe ovulation pains & cramping (much different than normal)
May 2, 2011
-Back pain, headache & extreme fatigue
May 3, 2011
-Peeing much more than normal (almost peed my pants) & bad gas
May 4, 2011
-Decided to take a test just for the heck of it & got a light BFP
May 5, 2011
-3 more positive tests, peeing more, slight wave of nausea & super sense of smell
May 6, 2011
-Another positive test, sore boobs & cramping
May 8, 2011
-First Mother's Day, the day we told out families (& got the best reaction!) and the start of morning sickness
May 9, 2011
-First midwife appointment (but with a different midwife than we wanted), scheduled ultrasound & got a whole bunch of adorable maternity clothes from a friend
May 14th
-Started getting pretty bad "afternoon sickness" and thew up for the first time
May 23rd
-Had to go to the ER for dehydration and stomach cramping from not being able to keep anything down. This little bean just loves to make it's mommy feel terrible! They did an ultrasound though and heard a strong heartbeat & the baby measured at exactly 6 weeks and is perfect. We didn't get to hear the heartbeat or see the ultrasound though which is making us more anxious for the ultrasound with the midwife!
June 16th
-Yay! Finally got to see our midwife and got out first ultrasound and got to see our little gummy bear and hear his/her strong heartbeat of 171! Everything is great except for the pregnancy sickness.
June 22nd-Had to go to the ER for a migraine & to get hydrated again. Sickness is just getting worse and worse by the day. Was told I have Hyperemesis Gravidarum.
June 24th-Went to the hospital again for fluids and nausea meds. We talked to my midwife and she said she would set up home health care so I didn't have to keep going to the hospital.
June 27th-While still waiting for insurance to approve home health care, had to go to the hospital again.
June 30th-Finally started home health care. I have an IV with constant fluids, a Zofran pump and feeding tube. I've lost 10 lbs since pre-pregnancy and am making +2 ketones.
1st trimester
1-4 weeks = 1 month - cooked!
5-8 weeks = 2 months - cooked!
9-13 weeks = 3 months - preheating oven [11 weeks]
2nd trimester
14-17 weeks = 4 months - mixing ingredients
18-21 weeks = 5 months - mixing ingredients
22-26 weeks = 6 months - mixing ingredients
3rd trimester
27-30 weeks = 7 months - mixing ingredients
31-35 weeks = 8 month - mixing ingredients
36-40 weeks = 9 months -mixing ingredients
Children are a heritage from the LORD, offspring a reward from him.
Psalm 127:3

For you created my inmost being; you knit me together in my motherís womb.
Psalm 139:13

"The Bible calls debt a curse and children a blessing; but in our culture, we apply for a curse and reject blessings." ~ Doug Phillips
I'm pretty much your less than typical
bubbly, girly, friendly, preppy, stylish, petite, blue-eyed, fun-loving, stubborn, country music listenin', scrapbook and craft making, special needs volunteering, dream and goal oriented kind of girl.
A couples facts about me
-My name is Tricia
-I'm 20 years young
-I've been married to my childhood sweetheart since 12/4/2010
-I'm a Christian, republican, pro-life and don't smoke, drink or use drugs-but that does not mean I don't know how to have fun or am naive.
-I've longed to be a mommy since I could remember.
-I'm the oldest of 7 kids and my family means the world to me
-I have a Golden Retriever named Frank and not that I'm biased, but I believe he is the most handsome and sweetest dog in the world
-I'm a work at home wife and own Dimples n' Daisies Baby Boutique.
-I'm a full-time college student majoring in nursing and I plan to become a Certified Nurse Midwife.
-I have Juvenile Rheumatoid Arthritis, Fibromyalgia, Psoriasis, Chronic Fatigue Syndrome, Chronic Migraines & Restless Leg Syndrome-but don't let that fool you, I'm basically a stubborn spitfire and nothing gets in my way. ;)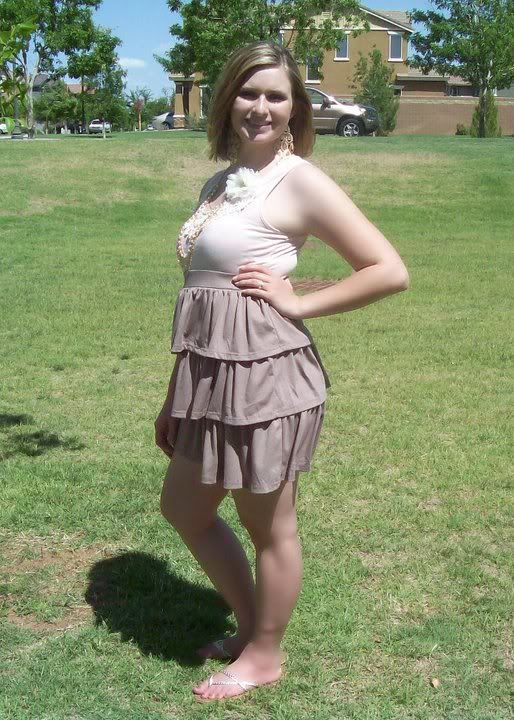 My husband's name is Landon and he seriously blows me away and makes me fall in love with him more every single day. He is the most incredible husband in the world and I know he will be the most amazing daddy to our children.
Our starts when we were just 11 and 13 years old. We went to church together and were each others "secret crushes". We both dreamed we would be together but never said a word and looking at each other resulted in blushing. Landon's family moved out of state when he was 15 and neither one of us kept in any contact.
In September 2009, Landon found me on facebook and we started talking nonstop. Within just a week we were completley head over heals. Less than a month later Landon flew out to ask my dad in person for permission to start dating. We flew back and fourth a couple times and it was very difficult but caused a strong foundation for our relationship. In December 2009, Landon flew out here for the 4th time and asked my dad for my hand in marriage. On New Years Eve 2009, Landon proposed to me in front of all of our close friends and family.
We got married on December 4th, 2010 and it was everything I had hoped for and more. I got my dream wedding and my dream man. =]
Landon is a college student as well and majoring in Nursing. He hopes to work in a Children Hospital when he graduates.
We both love to volunteer with kids with disabilities and want to adopt a child with a disability in the future.
We also have a heart for missions and would love to work in an orphanage doing medical work after we are finished with college.