Im 21years old. This was my 3rd pregnancy I lost 2 babies in the past due to uterine damage and ovarian cancer. That after intense prayer and faith healing one day I went to the doctor and he was shocked to find out that the cancer and the entire growth had disappeared. I live at home with my little girls father. My daughters father and I are so excited, he is 28 and this is his first child. I was told I would never be able to conceive again so I m doing everything I can to make sure nothing happens to my miracle baby!
On February 2nd 2010 at 22 weeks We found out it we were having a baby girl. I called Daddy at work and he was so excited I was thinkin this whole time it was a boy and now Daddy got the little girl he was hoping for. Travis is in family full of boys this is the first girl so of course he is extremely happy. Her name is Trinity LaToia Irby. .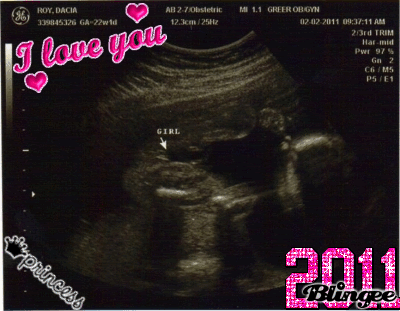 ❤
First Trimester
❤
»
1-4 Weeks: One Month
- Done.
»
5-8 Weeks: Two Months
- Done.
»
9-13 Weeks: Three Months
- Done.
❤
Second Trimester
❤
»
14-17 Weeks: Four Months
- Done.
»
18-21 Weeks: Five Months
- Done
»
22-26 Weeks: Six Months
- Done (It's A girl!)
❤
Third Trimester
❤
»
27-30 Weeks: Seven Months
- Done
»
31-35 Weeks: Eight Months
- Done
»
36-40 Weeks: Nine Months
- June 3, 2011. Trinity LaToia Irby was born at 3:09 pm.