Hello, My name is Ericka I am 19, I am engaged to Daniel and we have a wonderful son named Isaiah, Isaiah is 2 Years old his b-day is March 13. He is the best thing that has happened to me. I never knew how much love someone could have for someone before they have ever seen them, and i never believed in love at first sight till Isaiah was born, i fell in love with him the second i saw him on ultrasound. I had a rough labor with him, I went into labor at 35 weeks, I got Pre-eclampsia so i had to be educed and after 31 hrs in labor, they decided i was to tired to go on, so i had to get a c-section. Everything went great and my baby boy at 5 lbs, 9 oz, 21 in, was born. And now we are expecting a baby girl Isabella August 6th. And hoping the labor this time around wont be so horrible.



comment
posted 26th Nov '10
Congrats on the baby
School: Pioneer Pacific Health Career College: Associate degree: Medical Assisting w/limited X-Ray
Mamma Bear!
ℐαzmчn
sharnalinaaa'
mamas❤
Mommy|Of2
Ang ♥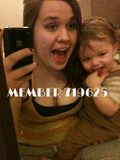 theirmommy91

Tomi Sikora
anthony & azzalena 's MOM
Brandyy*