My name is Brittany
Im 21
Im a Single mommy to a beautiful baby girl that was born Aug 5,2011
My baby is bi-racial White and Haitian. So needless to say my baby is gorgeous.
My daughter is my world she already has everyone wrapped around her little finger. i wish she would just stay little forever i love this stage even withall the sleepless nights. Being a single mom isnt easy but just looking at my daughter gets me through it. i hope one day her father and i will get together i know its wishful thinking but i just want my family to be together. I truly feel like he is the love of my life it would be a dream come true if we do get together but im not going to hold my breath cause thats not good either..but if you want to know anything just ask im really an open book and love to talk...BTW i think that people my age are starting a BABY BOOM cause everyone that i went to school with are all prego or just had babies its crazy like all my friends got prego like within 2 months of eachother it was so not planned lol but we are all happy and thats all that really matters.
" />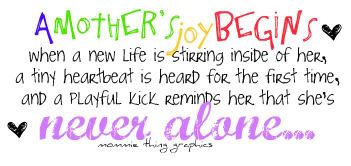 Breast Feeding for 6 weeks

Silver

Breast Feeding for 3 months

Rose Quartz
A mommy to be survey

*What's your name?:

Brittany Edsall

*What's the Dad's name?:

Wadsonley (Jordan) Lubin

*What girl names have you come up with?:

Nevaeh Leigh

*What boy names have you come up with?:

Devin Michael

*How are you feeling right now?:

Happy

*Where you excited when you found out or was it a complete surprise?:

Both.

*When's your due date?:

I was given two July 29th 2011 and August 18th 2011

*How many weeks are you along?:

16 Weeks tomorrow

*What features do you hope the baby has from you?:

My nose and ears

*What features do you hope the baby has from the father?:

His lips, and just over all his looks.

*Are you and the father married?:

No

*Are you planning on raising a family together?:

He says he wants to

*What kind of birth are you planning on having?:

Hopefully a natural birth

*Do you want drugs or are you going to try and do it natural?:

Drugs

*If its a girl what would you decorate her room in?:

Zebra and Purple or lady bugs

*If its a boy what do you want to decorate his room in?:

Either animals or sports.

*Is there anything you didn't have as a child that you want yours to have?:

Everything!

*Are you planning on breast feeding?:

Yes

*Did you have much morning sickness?:

YES more like all day sickness

*What are three emotions you felt almost all the time?:

Sick, Aggravated, & Hungry

*Where you really tired in your first trimester?:

OMG YES

*Are your parents excited?:

I guess

*How about his?:

ehhh

*Are your friends excited?:

Most of them.

*When you found out what did you do?:

Told my mom

*What kinda pregnancy test did you take?:

First response

*How many did you take?

3 LOL

*What are you looking forward to the most?:

Just having & being able to hold an amazing little person that we created.

& that I carried inside of me, its just amazing!

*What are you looking forward to the least?:

Having to tell them no one day, lol.

& knowing they are gonna grow up and move on.

*Who do you want with you in the delivery room besides the father?:

Mom and Sister

1 - 4 Weeks (1 Month)
Baked
5 - 8 Weeks (2 Months)
Baked
9 - 12 Weeks (3 Months)
Baked

13 - 16 Weeks (4 Months) Baked
17 - 20 Weeks (5 Months)
Baked
found out at 19W5D its a
GIRL!!! 3/29/11 Tech said she might be here a day early

21 - 24 Weeks (6 Months)
Baked

25 - 28 Weeks (7 Months) Ba

ked




29 - 32 Weeks (8 Months)

Baked

Baby Shower June 18th @ 31 weeks can't wait

3D4D ultrasounds June 18th @31 weeks cant wait




33 - 36 Weeks ( 9 Months)

Baked

37-40 weeks ( 10 Months)

shes here born on 8/5/11 at 5:27pm @38w1d i love my baby girl

she was 7lbs 1oz 18in