My name is Angel, and I am 22 years old. I met the love of my life at church camp, and after a whirlwind of myspace addiction, thousands of minutes on the phone, and a few rather hasty and not-thought-out trips to see each other (we lived three hours from one another) I moved in with him 4 months later, and was wearing his ring, two months after that
At the beginning of2011, I had my first BFP. After two years of trying, I couldnt believe it. But after only a short six weeks, our LO passed away, and I had a missed miscarriage at nine weeks. My fiance was heartbroken, as he had wanted a baby as soon as he proposed, and this was a dream come true. We'll never know what caused it, or if there even was a cause, but losing our first made us realize how slippery life is.
After losing our LO, Todd and I decided to move to Florida, hoping circumstances would be better, and we could outrun our depression. It was tough to leave most of our family behind, but I felt that we would be back someday. Okahoma was my home. Well not long after we got settled in, I took another test and lo and behold, it was a BFP! My heart was pounding and all the romantic ideas I had of breaking it to Todd went out the door as I raced to tell him, not even bothering to put my pants back on Lol
On my first ultrasound, my baby looked like a blob. It was kinda hard to imagine it growing arms and legs, and one day saying mommy. But on my next one, at 18 weeks, our baby had miraculously sprouted that and more! We found out it's a.........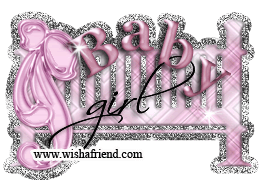 So after a fun few months of morning sickness, severe sciatica, and painful boobs, my pregnancy took a turn for the better! I loved the end of the second trimester. My hubby had demanded I not work, due to my previous m/c, and I was queen of my own little world! Being pregnant was amazing and those kicks and somersaults became an everyday part of my life.
Scarlett Renae King was born January 25th. 2012, at 9:27 p.m. She weighed 6 pounds 15 ounces and was 20 and a half inches long. When they were weighing her, she was screaming, and everyone says it sounded just like she said mom
My hubby has been amazing since we brought her home. He has two jobs and still makes time to help at night and on his breaks. I couldnt have asked for a better partner for myself or a better father for my children!
And now were expecting our second daughter, on May 20th.