I am 24 and my husband and I are expecting our first child. We had been trying for nearly two years and we are extremely excited!
comment
posted 29th Sep '11
About The Pregnancy
Is this your first pregnancy?: Yes
When did you find out you were pregnant?: confirmed June 14, 2011
Was it planned?: Yes!
What was your first reaction?: OVERJOYED
Who was with you when you found out? Just Me
Who was the first person you told?: Husband
How did your parents react?: excited
What was your first symptom?: sleepy heartburn
Do you know the sex of the baby?: Baby Boy!
Have you picked out names?: Yes
If so, what are they?: Colt
How much weight have you gained?: 11lbs
Do you have stretch marks?: unfortunately
Have you felt the baby move?: Yes. Its like having a little alien in there
Have you heard the heartbeat?: Yes, best sound ever!
About the birth
Will you keep the baby?: Yes!
Home or hospital birth?: Hospital
Natural or medicated birth?: Natural
Who will be in the delivery room with you?: Husband
Will you breastfeed?: for sure
Do you think you'll need a c-section?: I hope not
Will you cry when you hold the baby for the first time?:Cry, Laugh, all the above
What's the first thing you might say to him/her?: I love you!
Would you let someone videotape the birth?: sure, why not
Are you excited about the birth, or scared? Both

OTHER RANDOM QUESTIONS
Where was your baby conceived?: Vacation
Have you felt the baby move?: YES
Will you have godparents?: Yes
What is the baby's room theme?: Camo, marsh print
Are you ready to be a mommy?: Have been for years
What do you think the baby will be a "daddy's girl/boy" or a "mommy's girl/boy"?: Mommy/Daddys Boy We'll both spoil him
Rosalie's Mommy!
~Lucky~
Harley Fortier
Simone Hoyle
Leeza123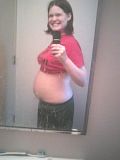 Pasketi
Catelin Miller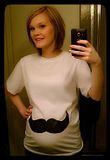 Missyify
*~*1st time mommy*~*