.
.i'm Haley, and a single parent to my beautiful daughter, Jovie Mae. Jovie was born May 9, 2011 at 4:29 pm. She weighed 6 pounds, 11.5 ounces, and was 20 inches long. I was induced at 39 weeks, due to an "aged placenta" and I was told that it simipily just wasn't doing me any good to keep her in there anymore. I went in at 7:00 am, got an epidural at noon, and started pushing at 4:00.
. .I did breastfeed for the firts two and a half months, but gave up because I didn't think that she was getting enough. I somewhat regret my decision of giving up, but I am also happy with it, because she started sleeping through the nights within a week later!!
Jovie is growing so fast, and I love to watch her and spend the day with her, even when I'm at work (I work in the daycare that she goes to) . I love being able to watch her, and not miss anything, and I'm glad that at the same time she is still getting to meet some friends to play with!
. .I am not against anything when it comes to parenting, I think the outcome comes hand - in - hand with the decisions that you make. I love to talk to people about parenting, and any other things, I could really use some friends, cyber or not!! hahah, ")
. .... .. PT / PM me if you feel. ")
**BTW.. . the dates in my pictures are wrong., my camera was hardly ever used and I still don't know how to reset it ")


comment
mkpmama
Ashley+Mason
Ghetto is not fabulous
Andrew&Riley'sMom
Sylas & B's Momma;;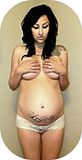 Sumshine212
MamaLissa