I'm the mommy of 3 year old Molly May, and almost-1-year-old Lucy Delilah. I've been married to my wonderful husband, Gareth for almost 4 years now, we've been together for 10. I'm a tattoo'd mommy, I'd be covered with them by now, if it weren't for the fact that my husband doesn't like them...at all. My kids are my life, and that is never gonna change. Message me if you want to know anything else about me!
comment
posted 5th Nov '11
Game day! Guess who's staying her pregnant butt at home. Lol It'd be better if I didn't live 2 miles from the stadium...
Music...movies...I love reading...hanging out with my family...I get to go out with my best friend Rachael once in a while, lol.
Now and Forever
Fat-and-Happy
~*`lulu`*~
☮ Phuket
Maria Jimenes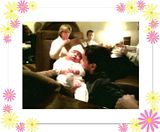 04090510
ღ Ho Basher ღ
Riley+3
Ozknativmama
Myown7thHeaven